Bloomington and Monroe County government officials are still working on an interlocal agreement on how to move the convention center expansion project forward. The document will guide the yet to be formed Capital Improvement Board, or CIB.
Monday night's meeting at the courthouse is the third in the series of discussion, changes, and disagreements for city and county administration to clean up and present for the next meeting.
On the agenda was parking demands, sustainability goals, property inclusion, and board appointments.
City Council Member Matt Flaherty is proposing a transportation management strategy to look into building the recommended 550-space parking garage due to climate change.
The city is slated to build and operate the garage through tax increment funds and user fees.
County Council Member Cheryl Munson says convention user's first impressions are key to keeping the center successful.
"You get the reviews that go out to the professional community that arranges conventions. We do not want black marks for parking, we have to be ready to go," Munson says.
County Commissioner Julie Thomas says more parking demand information is needed, such as service parking needs and local, weekday, and exposition use. 
"If we're building a convention center, we can't build it to fail by not providing sufficient parking. And I know that's not how I think about business, that's not how I think about life, but it's about how people who go to conventions think about things and that's who matters here."
Officials are also inserting language in the agreement to direct the CIB to incorporate green building into the project's design. The debate became how to fund it.
Mayor John Hamilton says he thinks they are getting ahead of themselves. He says the proposed $44 million estimate is what was decided and the CIB can ask fiscal bodies for more if needed.
Thomas wants something in writing on where sustainability funding would come from.
A main sticking point remains how much land should be handed over to the CIB.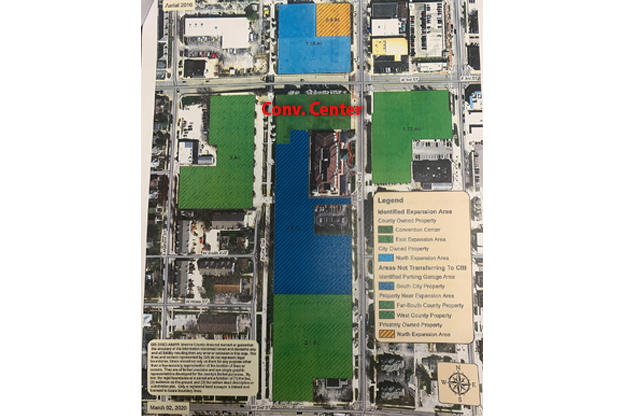 County commissioners say they only want to transfer land that is needed for the project. Thomas says the CIB shouldn't hold vacant land downtown. 
Hamilton says all the property purchased with the Innkeepers' Tax should be overseen by the CIB for future convention center needs.
"Let's create the CIB with an interlocal that doesn't lock in this issue that we don't agree on because the city does not agree the county should have sole prerogative to decide the future of those parcels of land," Hamilton says.
Officials plan to meet again at the end of the month, but this time with only one member of each government entity in hopes of creating the joint CIB, which would oversee construction and management of the convention center.