As the county election supervisor, Karen Wheeler's number one job is ensuring Monroe County's elections go smoothly. But 2020 has spared no one, and she now has to deal with global pandemic and influx of mail-in ballots in the lead-up to an exceedingly contentious presidential election.
As of Thursday, more than 400,000 Hoosiers have applied to vote by mail statewide, according to the Indiana Election Division.
In Monroe County, that number's over 11,100.
"The numbers will go up," Wheeler said. "But actually the last couple of weeks, our mail has been pretty slow, so people aren't requesting a lot more. But it's totally unknown."
For context, the 2016 election saw roughly 3,300 mail-in ballot requests. The county's more than tripled that, and there's still about a month to go until the deadline for requesting absentee ballots.
Indiana Election Division co-director Angie Nussmeyer says it's too early to tell if the increased mail-in requests will translate to increased voter participation on a statewide level.
"We're seeing it clearly indicate interest in the election but I'm not sure if that translates into more people wanting to vote by mail because they're more aware of that process," she said. "It's really hard for me to say if voters are simply choosing a different way to vote and we'll have a similar turnout than what we've seen in the past, or we're going to see overall turnout increase."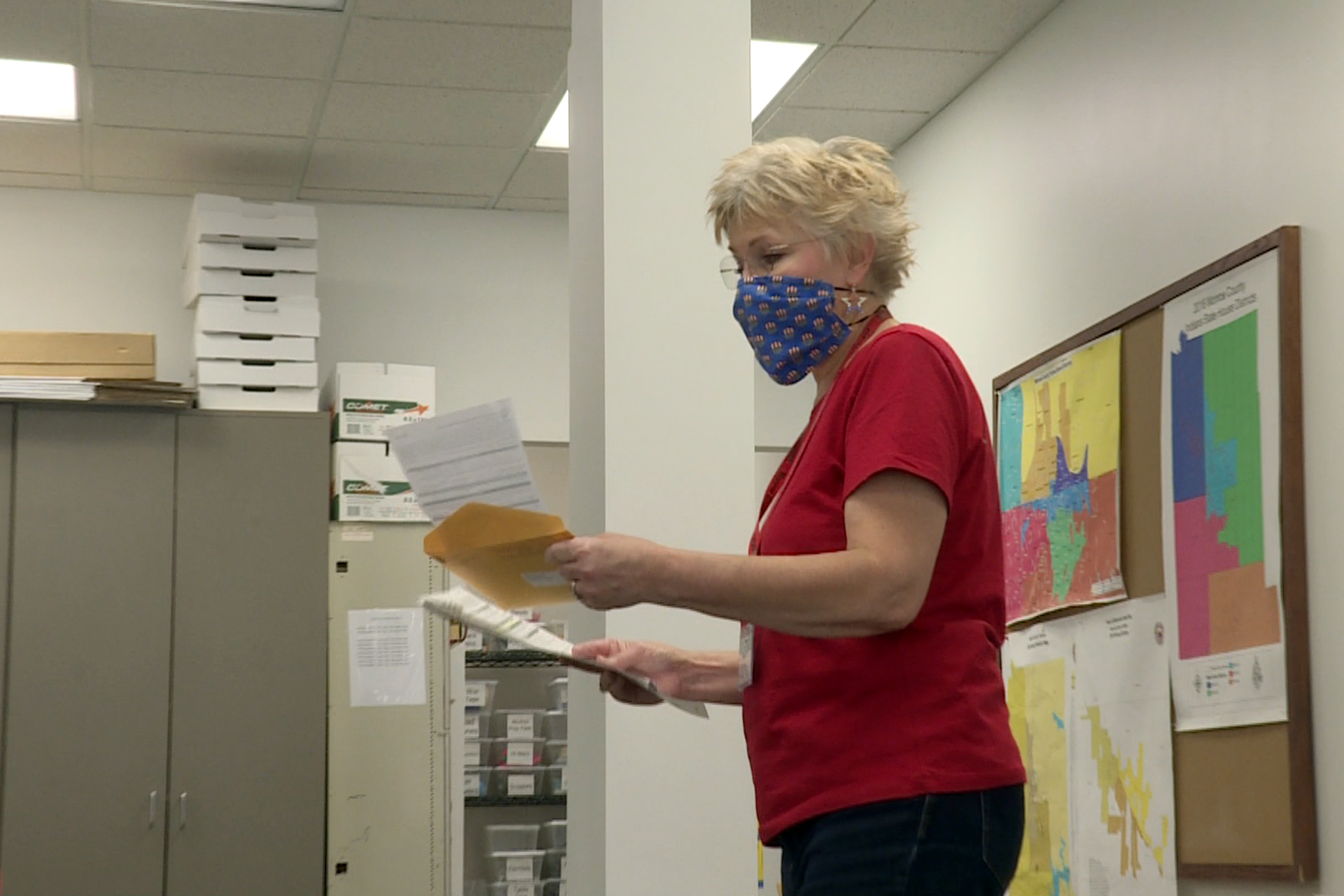 Wheeler says the increased workload has increased stress at Election Central. But voters shouldn't be concerned about the county's ability to handle the heightened workload – the primaries earlier this year worked as a test run of sorts.
"I had 23,000 applications [for absentee mail ballots during the primaries]," she said. "That just blew our socks off. Because coming off of 3,300 [in 2016 to] 1,300 [in 2018] to 23,000, it was astronomical, trying to get the process down and to get those ballots out the door."
Everyone who wanted an absentee ballot got one, thanks in part to the state lifting restrictions on why people could request mail ballots. But Indiana's one of a handful of states that requires an excuse for voting absentee, and those restrictions are back in place for the general election. Wheeler says though a reason is necessary, the excuses provided should cover people, even if the coronavirus isn't one of them.
"So if I get yours and I see [what] you've marked, I just accept it. I don't question it," she explained. "We pretty much take face value what you tell us. And it's not – we're not the voter registration place or excuse police; we take what you say because it's a legal document."
Wheeler says while concerns about voter fraud are legitimate, especially with mail-in voting, they're largely overblown. Election workers have a nearly 20-step process to just get a ballot to your door and have another dozen or so steps to confirm your ballot's legitimate when you turn it back in.
"I think we do an excellent job," Wheeler said. "It is possible for a person to get two ballots, I will say, [but] that it's very rare. And it has happened in the past. But they will not both count."
Wheeler added the fact that the state doesn't universally send ballots to every registered voter also helps with security. 
"In the state of Indiana, you have to request a mail ballot," Wheeler said. "There's other states that send a mail ballot to every registered voter. To me, they are night and day difference."
Larry Norden, the Election Reform Program Director at the New York University Brennan Center for Justice, agrees that though mail-in voter fraud is possible, it's extremely difficult to pull off.
"Frankly, it's not a very smart crime to try to commit. There's a there's a paper record to track back to somebody. Most of the of the attempts at fraud, though, are caught because you have that record. And particularly with mail voting, it's very easy to track back to them because there is that paper trail to track back to anybody that might attempt to commit fraud."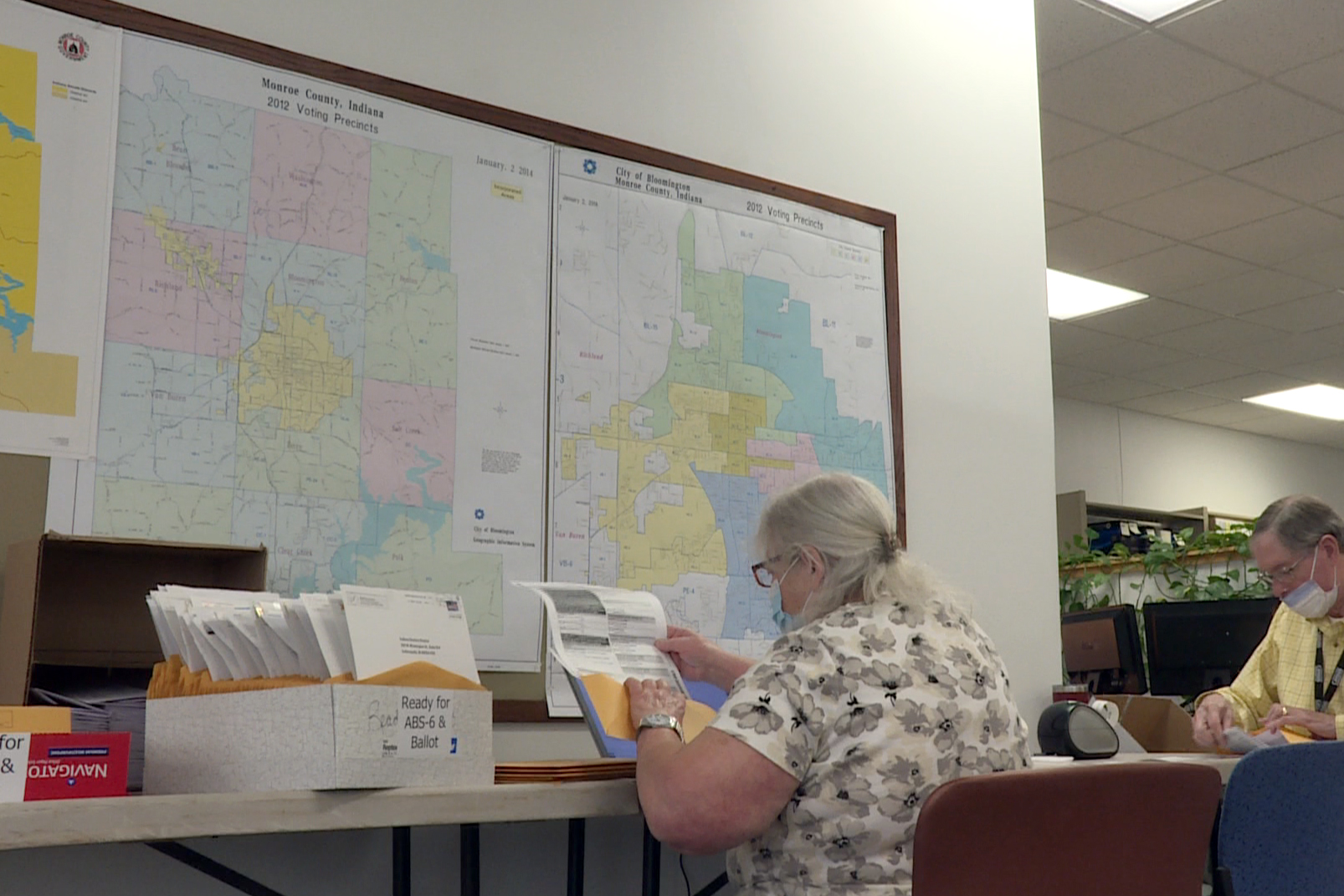 When it comes to getting results the night of the election, Wheeler says it's hard to speak definitively, just given the uncertain nature of 2020. But she hopes they'll be able to have results the night of November 3, or the next day at the latest.
"Oh, it's so dependent," she says. "I hate to – if not [the night of], we're going to have them very soon the next day. But I think we're moving in a direction that I would say I think we're going to have 'em that night."
Nussmeyer's prediction was more tempered, as officials have 10 days after the election to confirm results.
READ MORE: Judge: Indiana Must Count Mail-In Ballots Postmarked By Election Day
"They canvass and continue their count of absentee ballots that they need to, to come up with those final election results," she said. "So I do believe voters should expect not to have a complete picture on election night, given the volume of absentee ballots. I suspect that some counties will have to account for more than one day to get those results finalized. But again, every Indiana county has until noon the second Monday after the election to certify and finalize their results with the state."
Though Monroe election officials expect absentee requests to continue coming in, they're also bracing for increased numbers of people physically going to the polls.
"I have others that definitely want to vote early voting," Wheeler said. "And there's those that they definitely want to come on election day. And I find that very interesting that not everybody wants to mail that ballot, there's certain ones that want to do it the way they've done it before and this is how they feel comfortable."
Early voting will start Oct. 6 and last until Nov. 2. If you're going to vote in person, polling places will have enhanced safety protocols, including disinfecting voting stations, mandatory masks and keeping voters properly distanced.
For the latest news and resources about COVID-19, bookmark our Coronavirus In Indiana page here.