The hardships facing farmers are well documented: tariffs, falling commodity prices, and changing climates.
Planting season is here now and what's top of mind for many Hoosier farmers is how they're going to get into their fields. It's a dilemma local governments face when deciding how to allocate limited road funding.
Eric Scheller says he's been waiting all winter to get his crop in the ground.
As he fires up his tractor and climbs into the cab, he's ready to hit his fields.
As his acreage has increased, so has the size of his equipment.  One tractor has a set of duals which helps him pull a 12-row planter. It covers twice as much ground as his old one.
"In the last 50 years, the machinery has gotten bigger," he says. "And in the last ten years, we've seen a huge increase in size of machinery, what it takes out here to do the job."
Scheller says there are fewer farmers now and that also makes things difficult. 
"We're less and less farmers and growers out here in the country so it takes a lot more to get across the acres that we're trying to feed the world with."
He says fewer farmers means more stress trying to get crops in and harvested, all while ensuring they're taken care of in the field. He now plants several hundred acres in Vanderburgh County.  
But as he makes those final preparations, there's a separate stress that's taking up a big place in his mind: getting to his fields on the narrow roads.
"It's equal parts anymore. The stress that we're under to get the crop planted, produced, and to market is as much as it is moving around on the roads," he says. "There's a big priority on our part from moving around on the roads in today's society. People are not very patient with us, because a lot of people are removed from agriculture."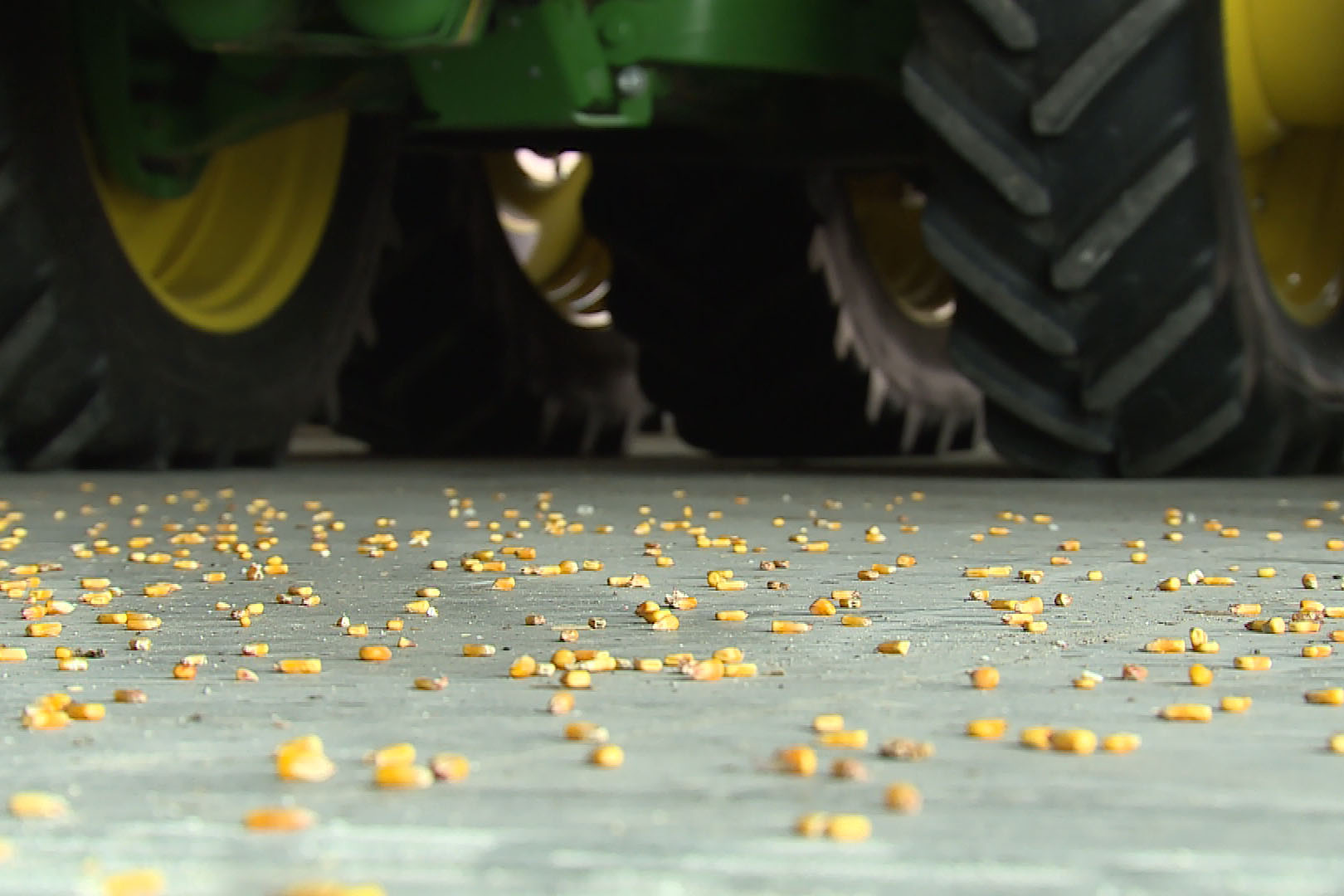 Scheller says while his equipment has gotten wider and larger, the roads haven't changed.  Many are surrounded by large ditches and won't fit two cars easily — let alone a car plus a wide piece of farm equipment.
"Yeah, moving around on the road is pretty stressful. If you meet somebody on the country road it gets to the point with the machinery that you have to stop, pull over, and let them pass you." 
He says that takes additional time and can be dangerous. 
"The roads need to be widened to a point."
Local Government's Dilemma
However, widening those roads is easier said than done. Cheryl Musgrave is a Vanderburgh County Commissioner. She says Scheller's concern is one she's heard from several farmers across the county, but there's not much she can do.  
Many of the roads were designed and built over a century ago.
"These roads were built in 1850 or thereabouts, in 1850 I don't think they had much concept of the realities we face today, so no this is very much a modern problem," she says.
The bind for policymakers is complicated.
Vanderburgh County only has about $3 million to spend on road projects each year. The county budgets $1 million per lane mile to rebuild an existing road, so they've largely ignored the needs because the money just isn't there. They'd rather fix potholes and resurface existing roads that more people use than build new raods in rural areas.
"Maybe four or five cars a day that travel on the road, and of course the farm equipment doesn't travel on it very often — only certain months of the year perhaps, so it's a very lightly traveled road," Musgrave says.
And policymakers say it's that way in much of the state. Counties and local governments just don't have the funds they need.  
John Stoll is the Vanderburgh County Engineer. He's responsible for deciding which roads get funding and how much.  
He has one potential solution: widening small sections of the narrowest county roads to appease farmers, while still spending the majority of money on existing road repairs.
"With the funding what it is, there's not really enough to pursue both resurfacing and redeveloping," he says.
Scheller understands the bind policymakers are in. He doesn't expect things to change overnight, but hopes more, meaningful dialogue can eventually lead to results.
"I think there's a lot of discussion that needs to happen between now and then," he says. "We need to sit down and have good, meaningful discussion between growers, landowners, and county commissioners to get the details worked out.  There needs to be talk between the groups."
In the meantime, he and other farmers will have to continue to pull over for oncoming traffic and navigate narrow roads the best they can.  
Scheller plans to travel up to 15 miles on these roads to reach his furthest field, so getting in a hurry is not an option.