Semi-truck drivers can't cross state lines unless they're at least 21. A bill backed by Rep. Trey Hollingsworth (R-Ind). would lower that to 18.
The goal is to open up the industry to more people in an attempt to address a growing driver shortage. But critics say the bill is trying to put a band aid on the problem without attempting to address what's causing it.
What's Causing The Shortage?
Barbara Hunt is the Vice President of the Indiana Motor Truck Association. She and a lot of other people in the trucking industry are worried about that shortage.
"At the end of 2017 the American Truck Association put the number of 50,000 as the driver shortage," she says.
They don't have current Indiana-specific numbers, but Hunt says as of a few years ago there was a shortage in the state of about 4,500 drivers.
It's noteworthy that there's a truck driver shortage when the country is experiencing record low unemployment. And drivers can make more than the national average without having to get a college degree.
But trucking companies say they are in constant need of qualified drivers.
Garrett Knollman is the safety and compliance officer for his family's trucking company. But he started behind the wheel of a big rig. 
"Companies are offering tens of thousands of dollars in sign on bonuses," he says. "But it's still not covering the hole."
According to the Bureau of Labor Statistics, the average truck driver made about $44,000 a year last year.
Compare that with the inflation-adjusted average of just more than $55,000 a year in 1980. That means truck drivers make less now than they did nearly four decades ago.
Norita Taylor is a spokesperson for Owner-Operator Independent Driver Association she says insufficient pay is one of the causes of the shortage. Trucking is not an easy job; its long hours, and a lot of unpaid downtime.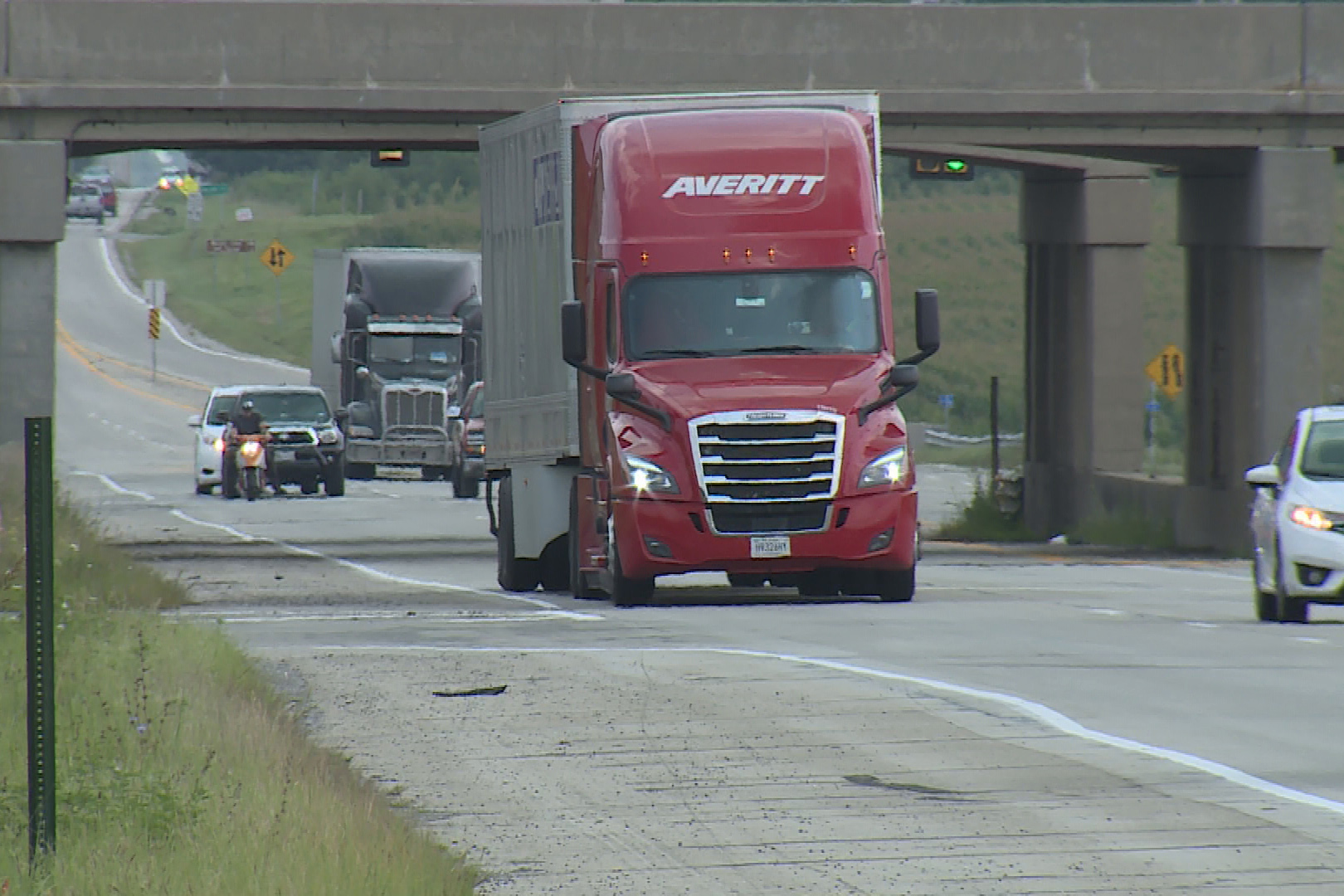 "Considering the number of hours that truck drivers work and the conditions they work under, meaning they are away from home for weeks at a time," she says.
Taylor says the turnover for truck drivers is about 94 percent, and she thinks much of that is because of how drivers are paid.
"They don't pay them by the hour, they pay them by the mile," she says. "So they don't pay them unless they are actually in a truck moving."
That means drivers can spend hours sitting in loading docks, or waiting in line to receive cargo and they won't get paid for any of that time.
According to the Bureau of Labor Statistics, drivers are getting between 30 and 40 cents per mile.
Michael Belzer is an Associate Economics Professor at Wayne State University. He says that even when they're on the road, the per-mile rate is still too low.
"If they are only working sixty hours a week that would be good,' Belzer says. "But to get there they got to get paid 60 cents a mile and that's about 50 percent more than they are getting paid now."
Belzer says in this market you have to be an experienced driver to work fewer than 60 hours a week and still bring home a decent paycheck.
Will The 'Drive Safe Act' Relieve The Shortage?
Carriers say there aren't enough drivers to meet their needs, and drivers say the pay is too low and that's why there's so much turnover.
But will the Drive Safe Act's goal of opening up the field to younger drivers solve that problem?
Hunt says that getting drivers right out of high school could be a big boon for the industry.
"By the time someone turns 21, they may already be in a career that works for them so it is harder to get people in the trucking industry," she says.
It's a hard sell for young people who might wonder whether they really want to invest the time to make truck driving a long term career.
And critics worry that getting young drivers behind the wheels of big rigs is dangerous. Dozens of studies show drivers between 18 and 21 have significantly higher accident rates. The Drive Safe Act does require additional training for young drivers that isn't required for new drivers over the age of 21.
But Belzer says the proposed legislation probably wouldn't bring in many more drivers.
"If trucking was attractive, it would be attracting them," Belzer says.
All sides agree there's a sense of urgency to find a solution.
The average age of drivers on the road now is 55 years old. That could mean even bigger shortages down the road.