The federal government is cracking down on vaping after it's been linked to at least six deaths, including most recently in Indiana.
IU Sophomore Sam Weger says he's vaped for almost a year, but recently decided to quit after hearing about the spike in health problems E-cigarette users are having.
He says kicking the habit is easier said than done.
"Honestly, yeah it is; it's much harder than I thought," Weger says.
Since September 6th the Centers for Disease Control and Prevention says people have reported 450 possible cases of lung illness directly linked to E-cigarettes.
Indiana is among 33 states with cases.
"It tells me that there's something that's changed. These devices have been around in the U.S. Market since 2007. We've only seen these pulmonary deaths over the past few months," says IU Simon Cancer Center Smoking Cessation Specialist Debi Buckles.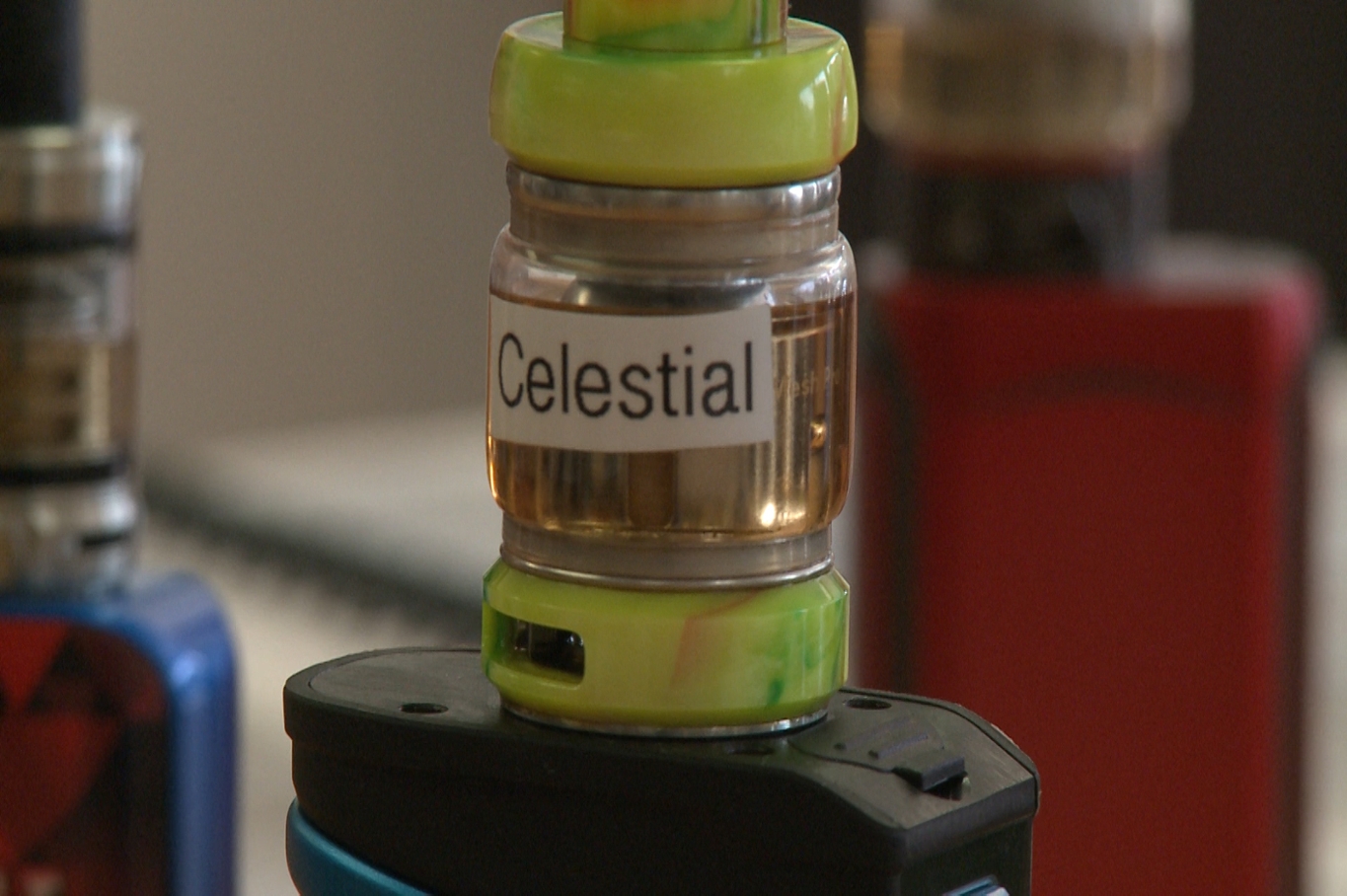 Buckles says while the nicotine content in cigarettes is standard across the board, the amount in E-Cigarettes varies.
Unless someone knows who prepared the liquids, they may not know how much nicotine they're taking in.
"The lung issues, and sadly the deaths that we have been hearing about, are not related to nicotine vapor products, they are the results of black market THC products," says the CEO of AMV Holdings North America Sam Salaymeh.
Salaymeh's company runs more than 100 vape shops around the country including MAXX E-Cigarettes in Bloomington.   
He says E-cigarette products are meant for people looking for an alternative to traditional cigarettes. 
They're not recommended for people who have never smoked before.
"The sad reality is, in the last year, year and a half, people are doing it for a little nicotine buzz,  the sad reality is they are going for a very high concentration of nicotine products," says Salaymeh.
He says all of the shops are equipped with a system to prevent clerks from selling E-liquids and E-cigarettes to anyone under the age of 18.
But somehow they are falling into the hands of minors.
The president of Indiana's Smoke Free Alliance, Amy Netherton says state and local authorities need to do a better job of cracking down on teens who use these products.
"Some of them are three day suspensions, some of them are slaps on the wrist, but their alcohol polices are zero tolerance policies.  So if we really have problems with JUUL in school, then why aren't we stepping up our policies?"
President Trump is considering a ban on flavored E-cigarettes, and Senator Todd Young (R-IN) wants to raise the smoking age from 18 to 21.
But Salaymeh says more laws on the industry won't do much to solve the problem.
"The challenge is people on the black market are not going to obey a law, we will.  So when all these laws are introduced, it's actually hurting the good players and empowering the bad players."
Weger says he started vaping because he saw a lot of his peers doing the same.
He wishes they knew a little bit more about the e-cigarettes before they started using them.
"I feel like they made it so people would stop smoking, but it got a whole generation hooked on something other than cigarettes."
A bill co-sponsored by Young to raise the legal smoking and vaping age to 21 cleared a senate committee but is still awaiting a full vote on the senate floor.