Bloomington Mayor John Hamilton says he's surprised and disappointed about the county commissioners proposed agreement on how to move forward with the convention center expansion.
He says they talked six weeks ago and was expecting a Memorandum of Understanding draft.
"It's a little frustrating to have negotiations through the newspaper or through the press," Hamilton says.
Instead, he received a memorandum last week signed by the Monroe County Commissioners highlighting two main issues, financing and facilities.
Monroe County Commissioner Julie Thomas says the new agreement is a bigger step forward than drafting another MOU because it includes a 'working group' of all elected city and county officials.
"We don't have a final decision on the center, the size of the center, how it's going to be funded, where this money is going to be coming from, what the budget is, where the hotel is going, how big it's going to be, the parking garage," says Thomas. 
The original $30 million expansion estimate did not include a parking garage and the acquisition of land north of the current location. A new report indicates the estimate to be closer to $60 million.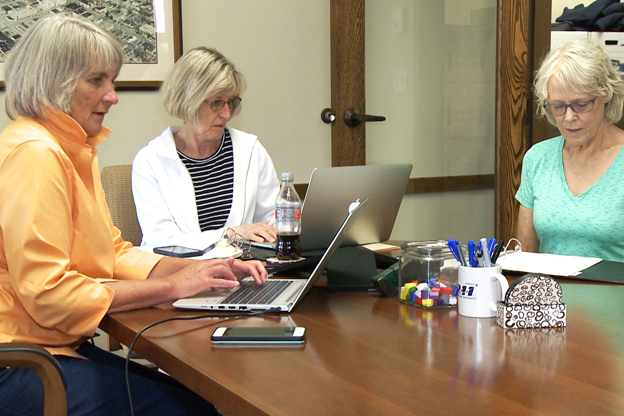 Hamilton says the new agreement is a recipe for not completing a convention center.
"It's basically a step nearly a year and a half back to try to reconstitute a different group to revisit a bunch of decisions that I think already have been essentially been made from the steering committee that we put together," says Hamilton. 
Hamilton says the combination of the food and beverage tax, a tax district or TIF, and even some county money for the existing facility renovation is on the table to fund the project.
READ MORE: Officials Figuring Out How To Move Forward On Monroe Convention Expansion
He says the commissioners indicated this project was not a top priority.
"This is a top priority for the city," says Hamilton. "I've been working for this for three and a half years and the community has voted to tax and has voted to move forward with this."
But Thomas says that's not true.
"This is a priority, but we have other priorities as well," says Thomas. "In other words, we have a lot of things on the front burner that we're working on all the time."
Thomas says that's why a Capital Improvement Board is included in the agreement. The new board would manage the construction of the project including regular operations once completed. That allows elected officials to work on other business.
Hamilton says he agrees with that as long as it doesn't slow down the design and construction of the project.
The memo asks the mayor's office, city council, and county council to respond soon.