Widespread freezing fog that developed overnight spanning from Indianapolis to Bloomington to Washington, had some Hoosiers scraping their windshields Friday morning. Freezing fog is dangerous because in low temperatures, it condenses and freezes over surfaces, leaving a thin layer like a glaze.
This can cause patches of black ice to form on roads, re-accumulation of ice on cars when driving, and reduced visibility. Freezing fog hazards will switch to patchy fog as the temperatures rise through the day.
Temperatures today in the mid-to-upper 30s will drop nearly 10 degrees by Saturday due to a cold front sweeping through with expected highs in the mid-to-upper 20s.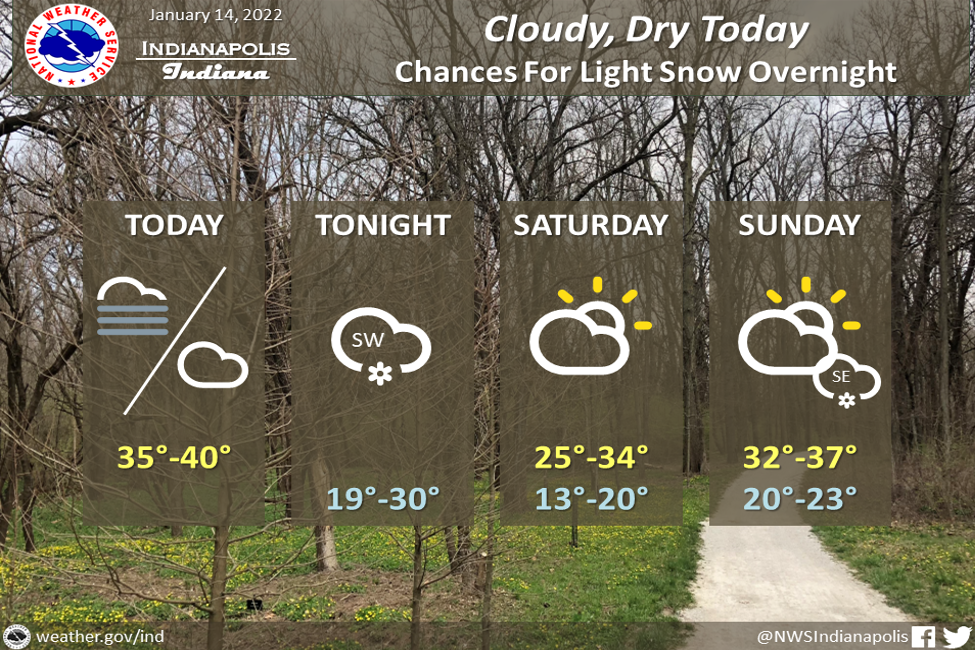 The best chances for snowfall will occur Friday night extending into early afternoon Saturday. Highest accumulation amounts in Indiana for Saturday are seen in southwestern areas with an expected inch near Evansville.
This system is not expected to primarily target Indiana. It's predicted to travel from the Iowa region down into the lower Mississippi River Valley before heading east into the Appalachians.
Extreme southeast Indiana may see further accumulation Sunday due to this delayed eastern movement. After these snow events, partly-to-mostly cloudy skies are expected for the remainder of the week with a couple breaks for sunshine on Sunday and Thursday.
Highs through Martin Luther King Jr. Day will hover in the mid-30s, up to the lower 40s Tuesday and Wednesday before decreasing to the mid-to-upper 20s on Thursday. Evening lows will stagnate in the bitter lower 20s through the week.