It's 3 p.m. on Wednesday at Pantry 279 in Ellettsville.
Trinity Lutheran Church's large purple cross looks over dozens of cars parked bumper-to-bumper in the gravel parking lot as people wait for boxes of dairy, meat, produce, bread and canned goods. They wrap around the building with some even backed up onto nearby State Road 46.
Pantry director Cindy Chavez is going to be busy for a while. After all, Wednesday is their biggest distribution day.
"We're going to put through roughly 200 cars, which will feed usually around 600 people," she said. "Usually on a Wednesday you feed 250 people, which is roughly 60, 70 cars. Versus now 600 [people]."
That's been the case since March: record numbers of people needing food, brought on by the coronavirus pandemic. Before, Pantry 279 would serve about 3,000 people a month. Now, it's 6,000.
Things have been so busy that Chavez had to add hours just to keep up with demand. The pantry already doubled last year's output by September and is just now hitting its busiest time of the year.
"We hit 1,000,002 pounds in September, and we haven't even touched Thanksgiving yet," Chavez said.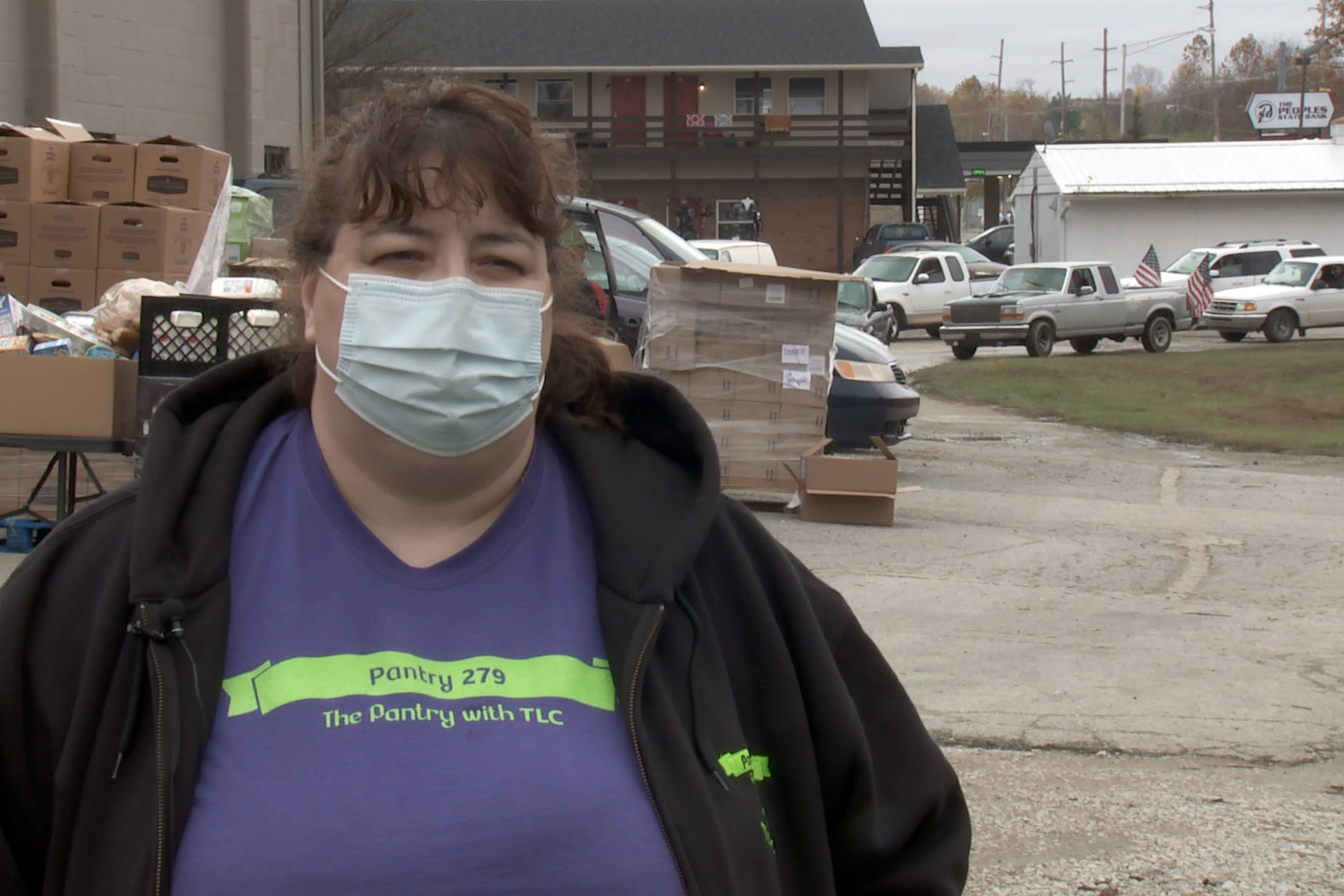 Hoosier Hills Food Bank, which provides food to organizations such as Pantry 279, finds itself in a similar situation.
"Last year was a record for us, it was the first time we ever hit 5 million pounds," said Julio Alonso, Hoosier Hills' executive director and CEO. "And this year, we hit 5.2 million pounds by September. So we're running about 44, 45 percent ahead of last year's distribution already."
While Hoosier Hills usually focuses on getting food to other organizations for distribution, the food bank has provided food directly to individuals and surveyed those who came. Alonso says over 70 percent of respondents have said the pandemic has affected their ability to get food in some way.
"With a lot of them indicating that they either lost jobs or lost hours, lost childcare," Alonso said. "Or a lot of seniors were just too much at risk and too afraid of exposure to go out to grocery stores."
In a brief from October, the nonprofit Feeding America estimated 50 million Americans could become food insecure by the end of the year, up from 35 million before the pandemic.
"Almost a straight 50 percent since the COVID began is people who have never been to a food pantry before," Chavez said. "And you can always tell them – their cars tend to be a little bit nicer than everybody else's. They also are very embarrassed; they don't want to look you in the eye when they're asking your name. They apologize a lot."
Tracie is one person who never thought she'd need Pantry 279.
"I mean, one week's worth pay is huge to a lot of people," she said. "Like they always talk about people living paycheck to paycheck. Well, it's really true."
She had moved into a new house with her family right before March. Once the pandemic took hold, sales for her home-based resale business screeched to a halt. Plus, her husband's a barber, so he couldn't work March and April – and customer traffic still isn't the same as it once was.
"Some of them are working a second part-time job, but it's not enough to feed the family," Chavez said. "They've blown through their savings. So now they have to make a choice:  Do we have shelter and heat? Or do we have food?"
Tracie says e-learning from home has added pressure for many families with young students.
"They're like, 'Mom, hey, I want a snack. Hey, I'm hungry.' And you're trying to tell them, 'Hey, we kind of gotta be frugal.' But they can't wrap their minds around what's going on. You don't wanna make your kids afraid or anything like that."
Chavez has had people from 26 different counties show up in Ellettsville needing food.
"You got one thing after another after another that you're thinking about for your family," Tracie said. "And if you can just check that one thing off that you don't have to worry about? Yeah, it's a huge thing. A lot of this is playing catch up when you get behind. This is getting across that finish line."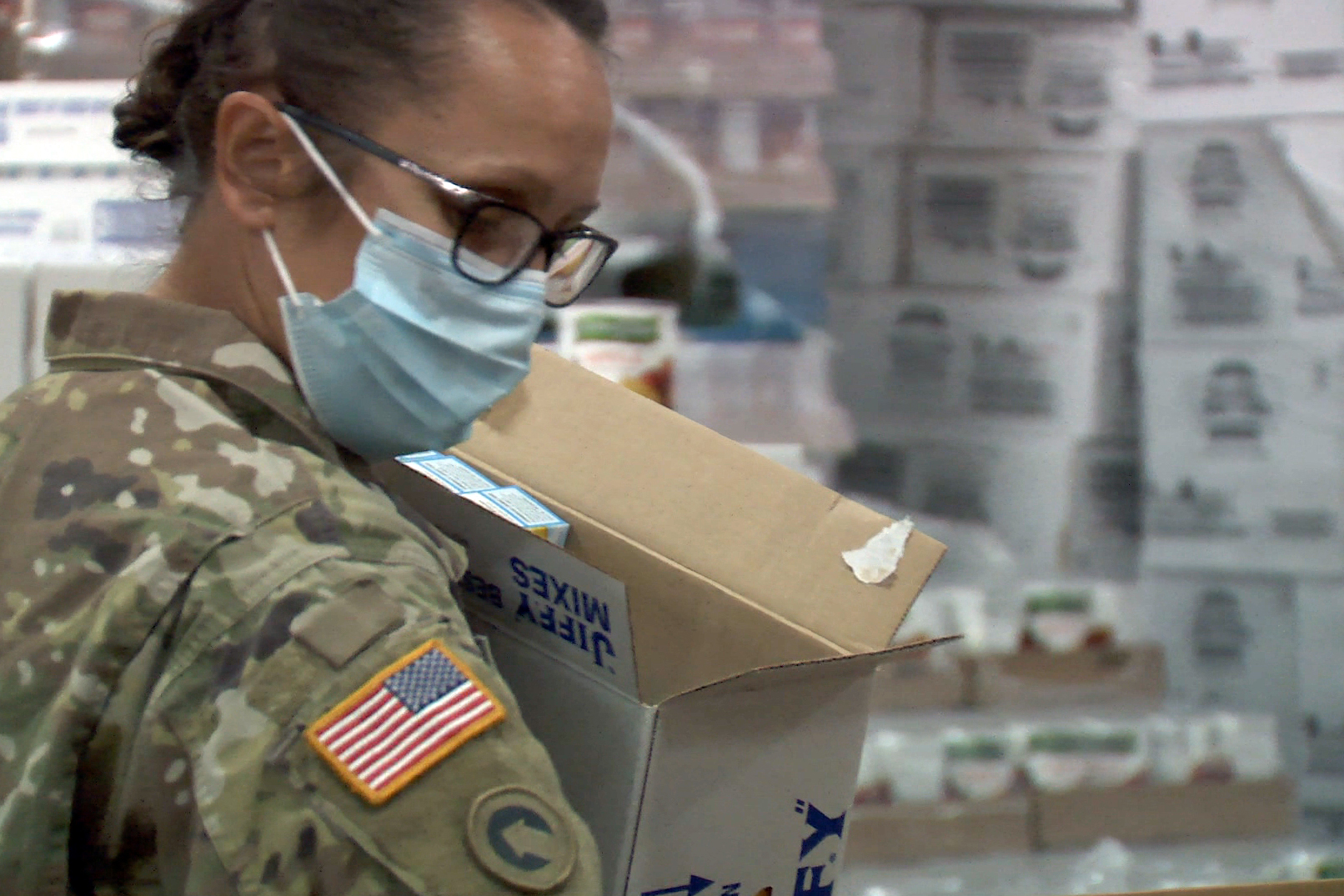 That's why Pantry 279 and Hoosier Hills are teaming up today and Saturday for their biggest Thanksgiving drive to date. Normally, the pantry gives away 1,200 boxes of Thanksgiving staples a year. But with help from Hoosier Hills, the plan is to distribute 2,000, which Chavez says will feed 14 to 15,000 people.
"We've had some people be like, 'Well, I want to donate. My neighborhood is fine, our area is fine,'" Chavez said. "And I'm seeing addresses and I'm thinking, 'No, your area's not fine. You have neighbors that are in trouble.'"
In total, Hoosier Hills will be providing roughly 4,000 meals to families in the area this Thanksgiving, including through the partnership with 279.   
And the work isn't over with Thanksgiving – things will pick back up come Christmastime, so the food bank will be looking for more community support to help it keep up with all the food it's had to order.
For the latest news and resources about COVID-19, bookmark our Coronavirus In Indiana page here.