Farmers markets have long been gathering places where communities can come together and celebrate local food.  However, the onset of the coronavirus has caused cities and towns to alter these long-held traditions.  
A growing number of cities are keeping the tradition alive despite social distancing requirements.
On most Saturdays, Bloomington's Switchyard Park is filled with vendors from all over the state. Residents flock to purchase fresh fruits and vegetables, locally roasted coffee, and listen to music. But, as it has for nearly every social tradition, coronavirus has forced officials to come up with an audible.
Thousands attend Bloomington's Community Farmers' Market every week—its one of the state's largest. Locals come for the fresh products and to enjoy the atmosphere, but vendors rely on the market for income.  
"We rely 100% on the market, and the market is our sole outlet for our products," Monroe County farmer Whitney Schlegel says. 
Schlegel says her farm "hasn't developed any online presence for our products, and I don't think that's unique."
Her and her husband are co-owners of Marble Hill Farm, and primarily produce beef and eggs. They've been coming to the market for years.  
"This is the time of year when chickens start laying more eggs than they do throughout the winter months," she says. "Our egg production triples from what it is in February." 
Situations like Whitney's aren't that unique. Many vendors rely on the market for income—especially at a time when many restaurants are closed.
The city quickly worked to move the market online. Schlegel says she and other vendors are thankful. Nearly all of her restaurant contracts are on hold, and she worried there wouldn't be a place to sell her eggs.
Vendors Laud City's Quick Action
City officials had to be nimble and act quickly.
"This has, of course, made things entirely different," city spokesperson Yael Ksander says. "At first there was a question about whether or not the market could be held at all."
Ksander says the city was confident the market could fall within the category of food and foodservice providers, which would allow it to continue after Indiana Gov. Eric Holcomb's closure of non-essential businesses.  
But still, the city had to make changes in order to follow the governor's order about limiting crowds.
That's where the online market came in. After holding training sessions, more than 100 vendors registered for the online market.
Shoppers can browse by vendor or product, then pre-order their items to pick up in a drive-thru at the regular location in Switchyard Park.
READ MORE: Farmers' Market Debuts Online After Sending Letters Clarifying Rules To Two Vendors
Last week was the first pickup. Organizers weren't sure how it would go, but the response was overwhelming. The new online market sold out of product just hours after opening. Drive-thru lines were lengthy, vendors say. But they asked for patience from the public.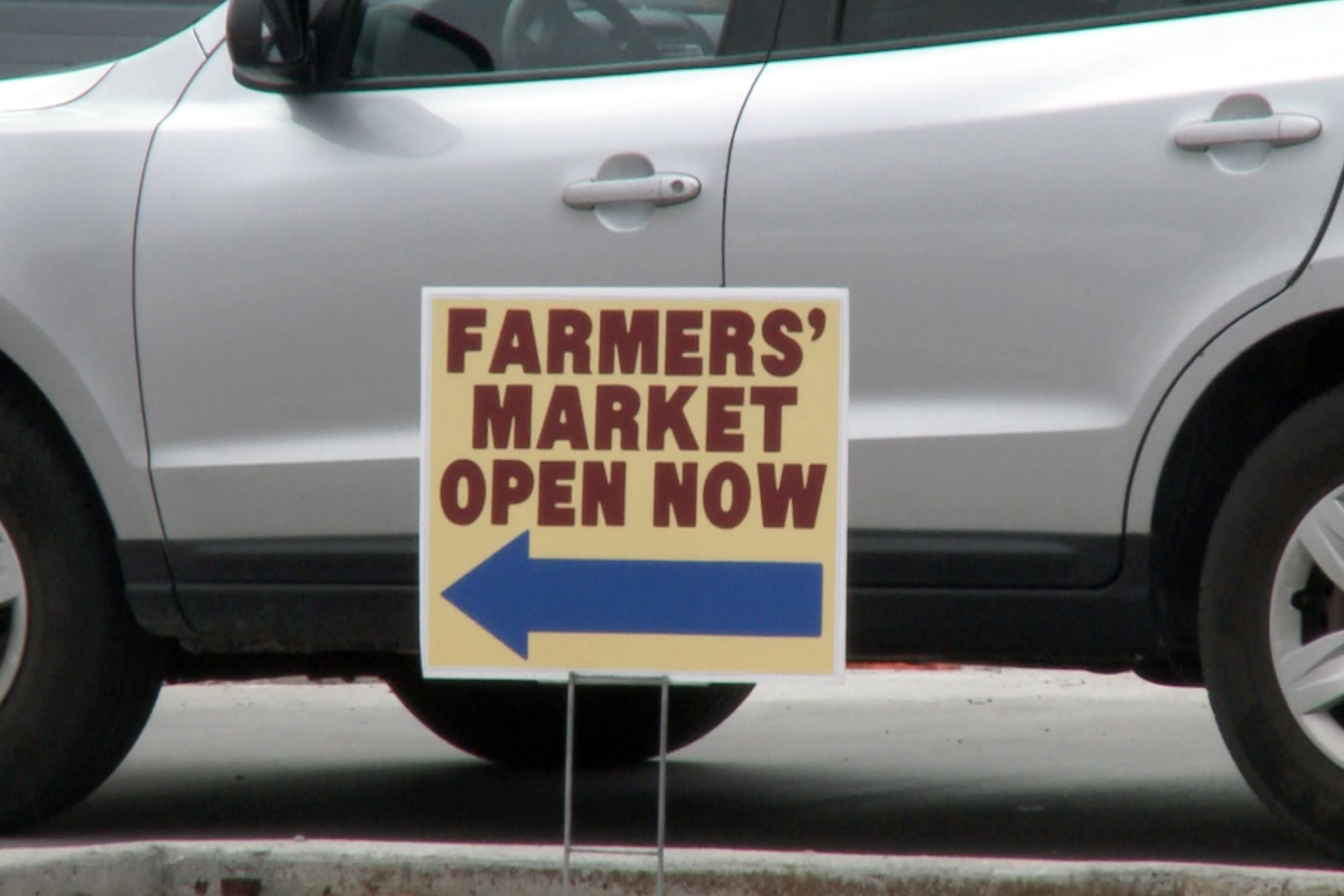 "We just hope that all the customers are will want to give it another try," Schlegel says. "Let us see if we can keep getting better at what we do."
Bloomington's Other Market Sees Similar Reception
Across town at the People's Farmers Market, the story is comparable. The market was formed last summer in response to a controversial vendor with ties to a white supremacy group and the subsequent action from the city. Vendors there have been preparing boxes and distributing them in a drive-thru.
It's been such a tremendous community building experience," vendor and organizer Susan Welsand says. "Some people are putting signs in their [car] trunks when we place the produce and saying thank you for doing this."
Instead of an online platform, those market customers receive a box of items, with a portion of each purchase funding boxes to underprivileged community members.
Yet, regardless of which market residents attend, farmers like Whitney are thankful to the volunteers and patrons who make it possible.
"It means a great deal to all of the producers and all of the farmers," she says. "We're very thankful."
Bloomington says it will keep the online market open throughout the duration of social distancing requirements.  However, the city says it is unclear whether or not online ordering will remain in place after current restrictions are lifted.
For the latest news and resources about COVID-19, bookmark our Coronavirus In Indiana page here.