The City of Bloomington is continuing talks on the Unified Development Ordinance (UDO) with discussions Thursday night about multi-use student housing.
The UDO suggests that student housing buildings can be as high as six stories and should be located away from downtown, but still near the Indiana University campus.
Jackie Scanlan is the development services manager for the city's planning department. She said not all student housing zones have to contain tall buildings.
"I think there's also maybe a misconception that just because it's student housing, it would be large," Scanlan said. "Again, that's kind of why we included the definition of student housing, so anything with four or five bedrooms is going to be student housing."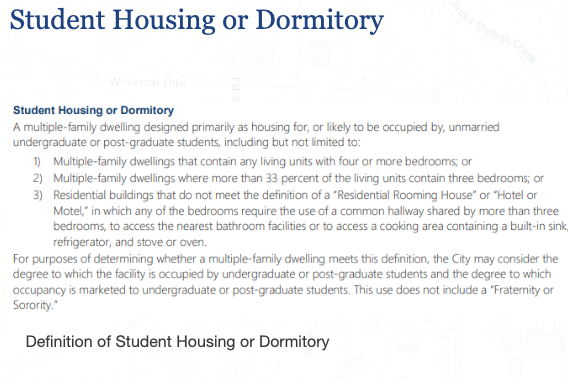 Senior Zoning Planner Eric Greulich said student housing buildings can still be compatible with the rest of a neighborhood because there is a wide range of allowable design concepts.
"Somebody could certainly come in with a two-story or three-story with four or five bedrooms in there and that would still technically meet the definition of student housing," Greulich said.
The proposal outlines three zoning districts for student housing:
Gateway North: areas north of downtown
Indiana & 10th Urban Village Center
3rd Street & Jordan Urban Village Center
Some public questions that came up during the meeting were about the future of student housing as the coronavirus pandemic continues.
Scanlan's response was that if IU's enrollment were to drop or the university moved to 100% online classes in future years, the plan could change.
"We do not have a lot of vacant homes sitting around ready for people to occupy them. We are obviously in very weird times and we don't know exactly what the effect of that is going to be," Scanlan said. "I'm sure that many things would be revisited in Bloomington including potentially the zoning code to make adjustments for that."
The city will resume its public discussions on the UDO in two weeks when it will talk about multiplex housing. The exact date will be announced sometime next week. 
This topic was controversial during last year's UDO process as several members of the community did not support those buildings being approved in their neighborhoods.
READ MORE: Residents, Bloomington City Council Discuss UDO Use Regulations
"This is not a guaranteed zoning proposal. This is just an idea that we're putting out and asking for constructive, helpful comments," Scanlan said. 
In the next eight weeks, the city will compile feedback and make changes to the UDO draft map before presenting it to the Plan Commission in early 2021.
Residents can provide their feedback here on the city's website.