Piles of food, diapers, clothes and more line the walls of a warehouse processing facility at Camp Atterbury in Edinburgh, Ind.
About 6,600 Afghan evacuees currently reside at the camp. According to Jesse Bien, public information officer for Camp Atterbury, 14 percent of evacuees are children under 4 years old and 22 percent are under 9 years old. 
A surplus of items is counted, boxed and processed at the warehouse for distribution and transported to the camp daily. The efforts are headed by Team Rubicon, one of many nongovernmental organizations assisting the Departments of State, Homeland Security and Defense to assist Afghan evacuees. 
Jen Corsi, a volunteer with Team Rubicon, said some of the items needed most include new clean clothing for children and adults, shoes, jackets and warm blankets. 
"Items we need most are those that can maintain the dignity and humanity of our guests," Corsi said. 
Team Rubicon is also collecting prayer rugs and traditional clothing, with the goal of delivering the items equitably to those who desire them. 
"It's a marathon, not a sprint, in terms of need," Corsi said. 
READ MORE: Vangina Tour Stops In Indiana, Distributes Essentials, Hygiene Products To Those In Need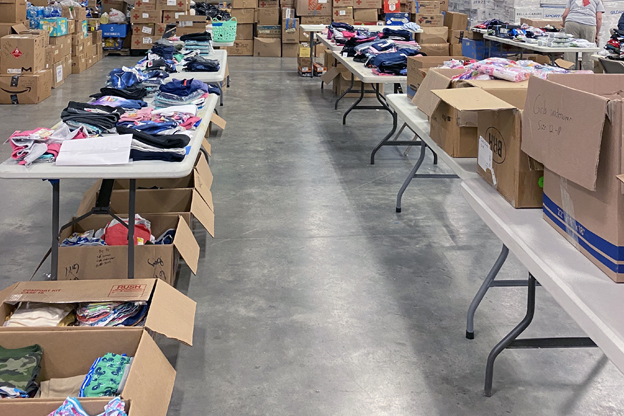 While massive amounts of items are sent from larger organizations, such as the Columbus Islamic Society and Sherwood Oaks Christian Church in Bloomington, Corsi said she is amazed at the generosity of community members who arrive with donations. 
"The Mom-and-Pop type will just show up with donations, wondering how they can help," Corsi said. "Our community has been so incredibly generous. I'm hoping they will continue to do so." 
Donations can be dropped off at the Johnson County Parks and Recreation Amphitheater in Edinburgh, Ind., from 9 a.m. to 5 p.m. daily through the month of October. As of Monday, items can be dropped at any of the National Guard Armories from 8 a.m. to 4 p.m. Monday through Friday at the following locations: 
Evansville:  3300 E. Division St. 
Greenfield:  410 Apple St. 
Rockville:  224 W. Strawberry Road 
Danville:  1245 E. Main St. 
Muncie:  401 N. Country Club Road 
Indianapolis:  Kessler-Moore Readiness Center, 2625 W. Kessler Blvd. North Drive 
Fort Wayne:  130 W. Cook Road 
South Bend:  1901 Kemble Ave. 
New Albany:  2909 Grant Line Road 
READ MORE: Evacuees Continue Arriving At Camp Atterbury As Some Begin Lives Off Base
Corsi, who began volunteering Sept. 11, said she plans to help for as long as she can. "I'm going to keep doing this until the mission is over," Corsi said. 
Individuals interested in volunteering can go to Team Rubicon's website to complete the application process. Volunteers can go in-state and out-of-state, according to Corsi. 
Tyler Smith, a volunteer for Team Rubicon, said he was sent to Camp Atterbury to volunteer and plans to stay and help until the efforts have finished. Smith retired from the U.S. Army after spending five years in Iraq.  
"This is important to me," Smith said. "I'll stay here until they make me leave."