More on the city's efforts to maintain a year-round pool, groundbreaking is set for the convention center project, and city council approves an internal loan to keep a balanced budget.
On this week's installment of Ask The Mayor, Terre Haute Mayor Duke Bennett addresses these issues and more. Listen to the full conversation with Indiana Newsdesk anchor Joe Hren by clicking on the play button above, or read some of the questions and answers below. A portion of this segment airs 6:45 and 8:45 a.m. Wednesday on WFIU.
This conversation has been edited for clarity and conciseness.
Hren: Let's start with Deming Park Pool, it was closed for about a week, but it's open again. I know we covered issues with that pool before due to being too costly to operate. Is that what's happening here?
Bennett: No we had some mechanical issues, but we were tight on the funds because they were big things that had to be fixed a few years ago. Last year, no problems at all. This year until this time, no had no problems at all. 
It took us a few days to isolate the problem and get the chemicals back up. It was kind of a fluke thing.
Hren: Along those lines, the city is working out a lease with the YMCA pool?
Bennett: It starts September 1st and we're going to be taking over the maintenance of the pool in order to get it back open. It's been closed almost a year due to financial reasons, so we're providing some funding and resources we already have so we'll have a year-round pool available to people.  
As we speak, we're doing some work down there and as soon as we can get it open we will. The Y requires a membership, but you can get a day pass for roughly what you'd pay to use the Deming Park Pool.
Hren: Convention Center progress took a little bump in delay, but I hear there's a groundbreaking date set now?
Bennett: September 6th will be the groundbreaking for the project. We're still working a few details out, but we got the big things resolved.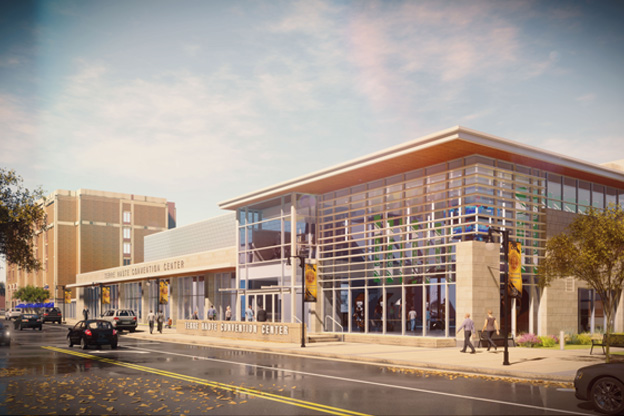 Hren: I read about last week's city council meeting and the approval of an internal loan and correction, let's just start with the correction?
Bennett: Well, when we put the budget in to the state last fall, for some reason, this one section of the Wastewater Treatment Plant budget didn't stick. Where we dropped the ball is, when we went back to review it we missed that. So we knew in February it wasn't there and told council we'd be back some time to talk about that. So it was an administrative step to appropriate the money. 
The other loan we borrow from ourselves, but the state law changed a couple years ago that you have to do a loan, you can't just pool the money. If we have large project prior to June, you can get a cash crunch if you don't have big reserves. Well since we don't have big reserves, we need to have cash sitting there, so we're creating those reserves if you will by borrowing a little bit of money. Then we get paid back, we pay the loan back, then we take another loan out for the next cycle.
But we keep reducing that, we've gone from $9 million to about $3.5 million and in the next year or so I hope we eliminate much of that.