Goodnight's trip to witness Mayor Pete's big announcement, tying economies to other cities, the possibility of an innkeepers tax hike, and a flap over logs with the yard waste center.
On this week's installment of Ask The Mayor, Kokomo Mayor Greg Goodnight addresses these issues and more. Listen to the full conversation with Indiana Newsdesk anchor Joe Hren by clicking on the play button above, or read some of the questions and answers below. A portion of this segment airs 6:45 and 8:45 a.m. Wednesday on WFIU.
This conversation has been edited for clarity and conciseness.
Hren: I saw your Twitter saying you attended Mayor Pete's announcement in South Bend on your birthday. What was that like considering South Bend is only an hour or so away?
Goodnight: It was great. My wife asked me what I wanted to do on my birthday and I said I want to support Mayor Pete. He laid out where he stood on issues, he's in a crowded field, but obviously my heart goes to mayors or former mayors that seek higher office because I think they're in a position to take on real challenges and have a huge impact on people's lives. 
We don't get to pass the buck. A lot of times the federal government issues these unfunded mandates to the states, the state likes to give unfunded mandates to school corporations and county government and city government, we're seeing that right now with the jail population. So mayors don't have that option, so when it gets to us we have to solve it. 
Hren: In your State of the City Address, you talked about tying economies together with other cities, especially Indianapolis. Have you worked with South Bend?
Goodnight: Not too much, you should try to tie yourself as much as possible to larger metropolitan area and when you look at Indianapolis, we're 30 minutes away from Westfield, I can be in Indianapolis in the north side in about 45 minutes. So we get our news, our television from Indianapolis, so I think Kokomo is best long term strategy should be tying ourselves to the Indianapolis metropolitan area.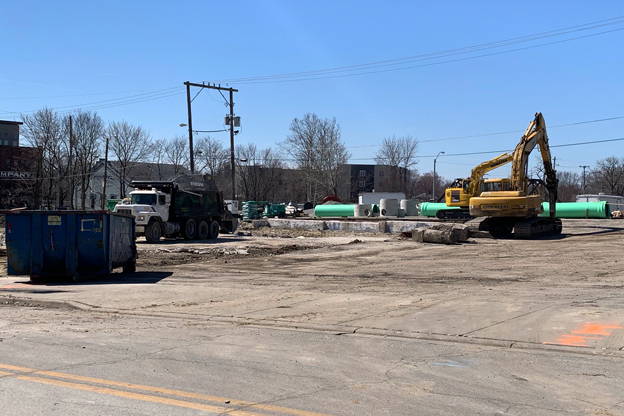 Hren: As the general assembly wraps up, is there anything at the top of the agenda for Kokomo?
Goodnight: The biggest thing is we were part of a larger piece of legislation to give locals the ability to increase our innkeepers tax. That has passed and sent to the governor's office. We're part of 17 or 18 cities, towns, or counties that are part of this rolled in legislation. For others, I think there's some food and beverage tax. So that was important to us.
So it's five percent here in Howard County and in Indianapolis it's ten percent, so it would allow us to bump it up to at least eight percent by the county council. 
Hren: Does this have anything to do with the new conference center?
Goodnight: It does, we put together a plan to make this happen without any increase, but it gives us a pretty lean operating budget, so we think this will give us a little cushion.
Hren: I saw this article in the Kokomo-Tribune, there seems to be some controversy over logs at the yard waste center. The center doesn't want to take logs, but the city doesn't want to collect them either, why did all this come up?
Goodnight: Sure, keep in mind we have the recycling district which is a taxing unit, no different than the library, a township, or county government. And that recycling district covers the entire county. Because we have a place you can drop off limbs and leaves, they bring in a contractor who will chip down large logs and small brush, so we in the city - private individuals can drop things off over there and they changed their policy to what size logs they would allow.
The frustration is, we pick that up. So that's an unfunded mandate. Even though they are contracting and they have equipment, we don't have that equipment locally. So it puts the burden back on the street department. So do we buy chain saws and go through training for all our street department. So it just pushes the burden back to city government.