More on a new city salary ordinance, Exhibit Columbus wraps up this year's symposium, concerns are growing over a homeless shelter and the city hires a project manager to oversee the purchase of a vacant mall.
On this week's installment of Ask The Mayor, Columbus Mayor Jim Lienhoop addresses these issues and more. Listen to the full conversation with Indiana Newsdesk anchor Joe Hren by clicking on the play button above, or read some of the questions and answers below. A portion of this segment airs 6:45 and 8:45 a.m. Wednesday on WFIU.
This conversation has been edited for clarity and conciseness.
Hren: We've talked about city pay scales since you were first elected and some of this is coming to fruition with a salary ordinance, as the budget is being prepared for next year, do you see this taking affect this upcoming budget cycle?
Lienhoop: The salary ordinance was passed at the last two city council meetings, so if it's funded at the next  two, then it will take effect the first of January. Usually we move forward with some cost of living adjustment, and we've fallen out of tune with the market. We find we lose police officers and fire fighters to other departments because compensation arrangement is better elsewhere. The last thing we want to do is become a training ground for another agency.
It's become increasingly difficult to find capable people to do difficult jobs. What we're going to go to is a salary that has a midpoint which is based on market value which our consultant has provided to us. We still have to provide and minimum and maximum so we take 20 percent off and add 20 percent to that midpoint.
Our target is to get our employees to the midpoint in two or three period. So over time we migrate the compensation arrangements to something that is more market driven and allow department heads to compensate employees based upon performance. 
Late to last year, the county passed a local income tax increase. Part of what we're going to do is use that money to pay for the salary increases.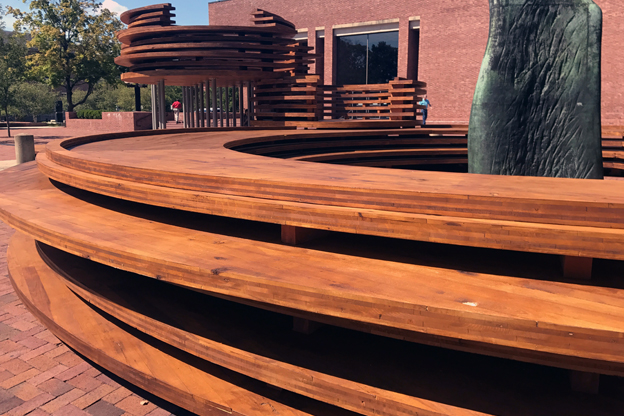 Hren: The national symposium for Exhibit Columbus just wrapped up this weekend, I know city organizers were expecting more than a thousand visitors. Any early indications of how it went?
Lienhoop: It's a two year program and this is the odd year. This is designed for the professionals and allows them to think a bit about design type activities. So it's not geared toward the residents or layman when it comes to these issues. So the attendance isn't like the even years, but we're pretty excited to have these people in town.
So they introduced to us the Miller prize winners, there are five and most of the sites. The winners will be back to Columbus four to six times over the next year and we hope to have an unveiling about this time next year.
Hren: Last time we talked about the city's proposed purchase of Fair Oaks Mall and turning into an indoor sport complex. I see the latest update is that the city hiring a consultant?
Lienhoop: It takes us awhile, we're pretty thorough and there are a number of different boards and agencies who privilege you have to receive before moving forward. Plus we're partering with Columbus Regional Health, whatever decision you make have to work for both.
So we hired a project manager to help sort through some of the legal issues in terms of keeping things moving. We've begun to hear from tennants who might be interested in lease extentions. There'll be an environmental analysis, a structural analysis of the buidling. Everybody in city government had a full time job before we bought the mall, so they really didn't need a mall to try and manage. So it's a temporary position.
Hren: I see there are some Town Halls scheduled to discuss some of the complaints serving the homeless. This is about Brighter Days Housing – is this something the city is looking into?
Lienhoop: It's located in east Columbus in primarily a commercial district. Some nearby have complained about an increase in certain kinds of undesirable activity. It may be loitering, litering - we're talking needles and other activities you just don't want to see. So part of what the city is trying to do is understand the problem. We want to make sure we react appropriately. 
I think what we need to understand is that there's a communication between the people that run the shelter and the folks in the neighborhood. I hate to phrase it this way, but it's not the city's shelter. It belongs to the Columbus Township Trustee and it's managed by Love Chapel that is a social service agency. But we're going to try to do whatever we can do to help facilitate that.