For years, growing hemp in Indiana was prohibited — the federal government classified it as an illegal drug.
But that's changed, and now more Hoosier farmers are experimenting with the crop — they're hoping to use hemp to boost their profits. 
The 2018 Farm Bill effectively gave Hoosier hemp farmers the green light by decriminalizing production of the crop. While there are still regulations, it allowed farmers to start growing hemp for the first time in decades.  
Even though farms in other states, including Kentucky, had already been growing hemp, Indiana's legislature was hesitant to set up a program for farmers to grow. However, Hoosier lawmakers did in 2018, and a small number of farmers are currently growing on a trial basis.  
Farmers say the timing couldn't be better. With the profitability of corn and soybeans tumbling thanks to things like tariffs and weather, more farmers are looking for an opportunity to boost their profits.
That likely explains why more than 150 farmers gathered in Versailles last month to learn how to grow hemp next spring.  
Jim Benham is the president of Indiana State Farmers Union. He's one of the farmers currently growing, and hosted the event at his farm. He thinks there is plenty of potential in the crop. 
Benham says the process for harvesting hemp fiber — which is used for creating products like clothing and hempcrete — takes fiber strands from the stalk of the plant. Farmers harvest it with traditional machinery just like they would hay. After cutting it down, it will dry in the field.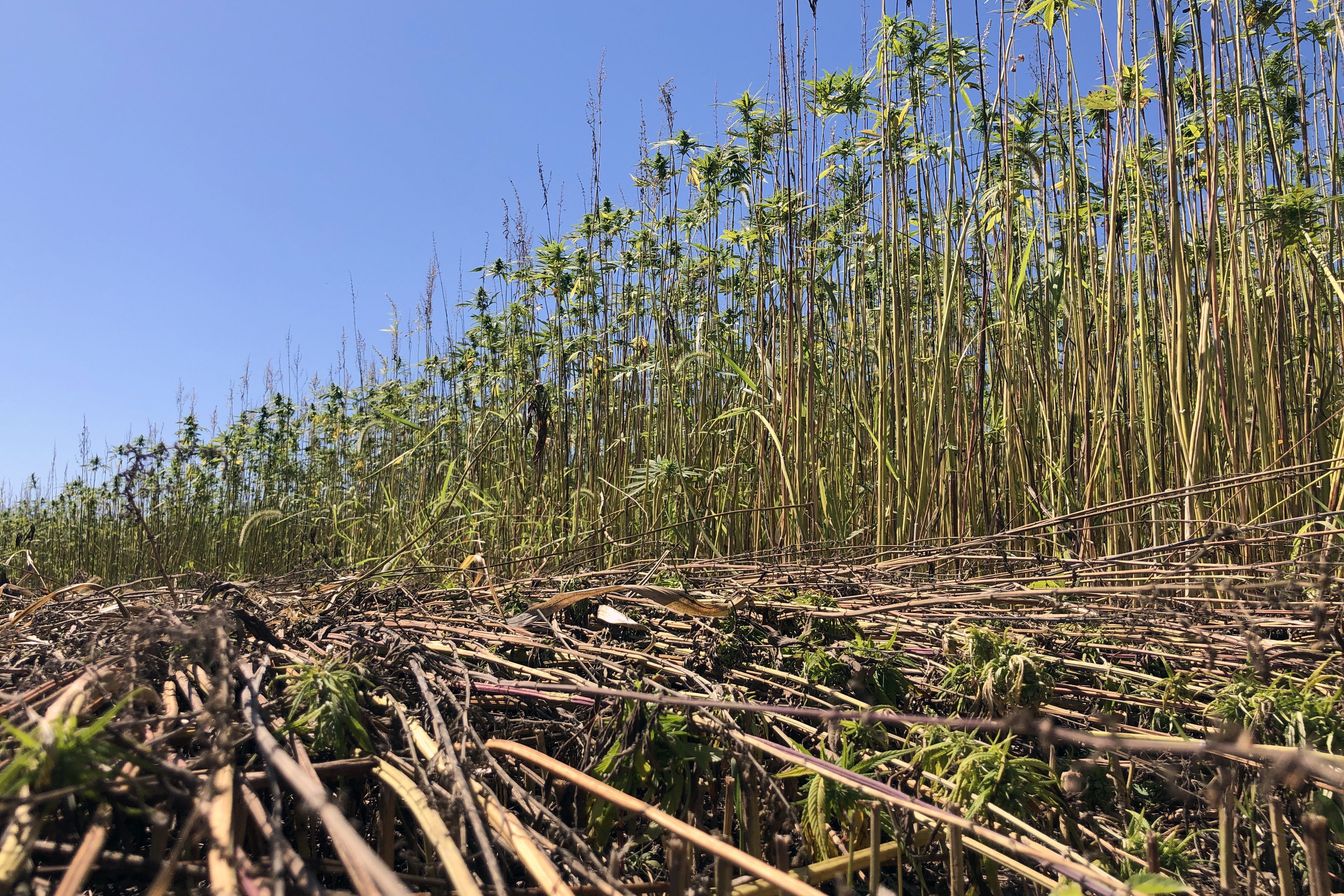 Benham says harvesting hemp grown specifically for CBD production or for seed production is different, though. 
"If I was going to raise for CBD, I would cut that off right here and run that through a machine that would actually strip all the leaves off of it," he says. "Then we'd take them leaves after they've been dried, you grind them up for cigarettes or you grind it up with a mixture and you can vaporize that off for CBD oil."
There are several varieties of hemp.
Hemp raised for CBD and other oils more closely resembles a vegetable. The leaves of the plant are harvested and the oil extracted. While farmers can get more money for this kind of crop, it's a labor-intensive process that often requires a lot of hands.
On top of that, there isn't much equipment or an accepted way to use pesticides on fields. Plus, the costs of acquiring seeds are much more difficult than corn or soybeans — that's because specific varieties tailored to the varying climates haven't been developed yet.
Despite those challenges, many farmers here say they're seriously considering putting a small crop in the ground next spring. They cite declining commodity prices for corn and soybeans as a primary reason.
Jamie Campbell Petty is the co-founder of the Midwest Hemp Council. She says the possibilities are endless for hemp, but cautions farmers from being too bullish. 
"Our goal is to make sure we get the infrastructure in place so our farmers can grow this crop, so they have this opportunity," she says.
The infrastructure Petty is referring to are the distributers and processors of raw hemp. Someone has to take the product from these fields and turn it into a more usable form.
Chris Moorman does just that. He's the Chief Marketing Officer at Gas City based, Heartland Harvest Processing. He processes hemp for CBD, and cautions farmers from getting too bullish too soon.
"This is not like corn and beans," he says. "[Farmers] can drive the elevator and even if I don't like the price, there is a price to be paid. There is a real possibility that I'm afraid a lot of people in this state are going to grow this crop this year and not have a place to go with it because they're not used to marketing a crop like produce."
But Moorman agrees with most farmers who have already started planting hemp. He thinks there is a market available — and money to be made — if they're deliberate. However, he says hemp isn't like other crops.
"Agronomically this crop is very different from almost anything else in the state has grown in living memory," he says.
Farmers who want to grow hemp next year still have to apply with the state, but industry observers anticipate the number of hemp acres to increase significantly in 2020.