It seems to be a common complaint in Bloomington. Why are gas prices higher in Bloomington than in other parts of the state?
Three local residents asked essentially the same question like this one from Bob Tamillo.
"Could you please do an in depth report on why Bloomington gasoline prices are always higher than elsewhere? It's not from production costs."
To answer that question though, you have to make sure gas prices in Bloomington actually are higher than in other parts of the state. That can sometimes be tough to establish, because gas prices fluctuate from day to day and from station to station.
A quick look at gas prices on the Gasbuddy.com website this week revealed prices in Bloomington hovering from $2.80 a gallon to $2.90 a gallon with a few outliers both more and less expensive toward the edges of town. The state's average falls right in the sweet spot, landing at about $2.86.
But that is just one snapshot at one moment in time. Senior Petroleum Analyst at Gasbuddy, Dan McTeague, confirms you do see marginally more expensive gas in Bloomington.
"It's getting really to the point where the average price here in Bloomington tends to be at or a little higher than the regional average or the state average," McTeague says.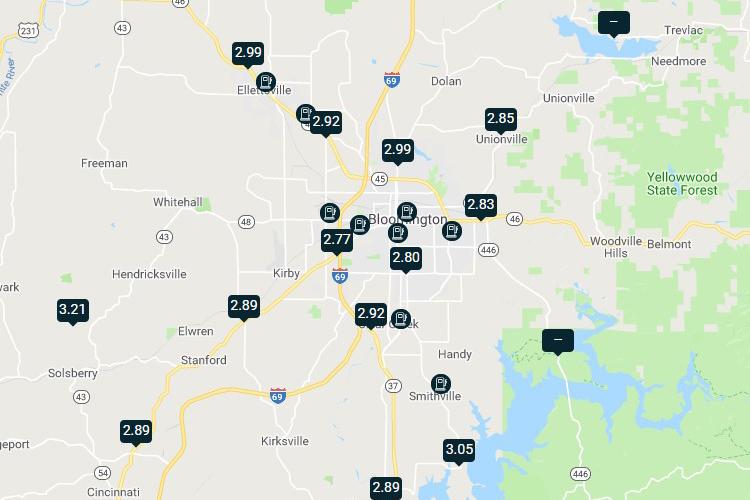 But Bloomington is certainly not the highest in the state, or even the region. Just one county over, a gas station in rural Greene County was charging $3.21 a gallon this week.
But those seeking lower gas prices can also find them nearby. In Bedford prices top out at $2.83 a gallon and the careful buyer can fill up for as low as $2.75 a gallon. Or they could head to a neighboring state such as Illinois, where lower state gas taxes translate to cheaper gas at the pump.
Still, Bloomington's status as a college town creates a unique situation that adds to the belief gas prices are higher here. Wally Tyner, an Agricultural Economist at Purdue University, says College towns have their own gas price fluctuations, often different than what is seen in other communities.
"Stations are going to bear whatever the supply and demand forces are in the region at that point in time and they vary through the year and what's going on in the community," he says.
He points to spring break as a time college communities like Bloomington and West Lafayette see price hikes ahead of students leaving town. But Tyner says Bloomington isn't a major outlier compared to prices nationally.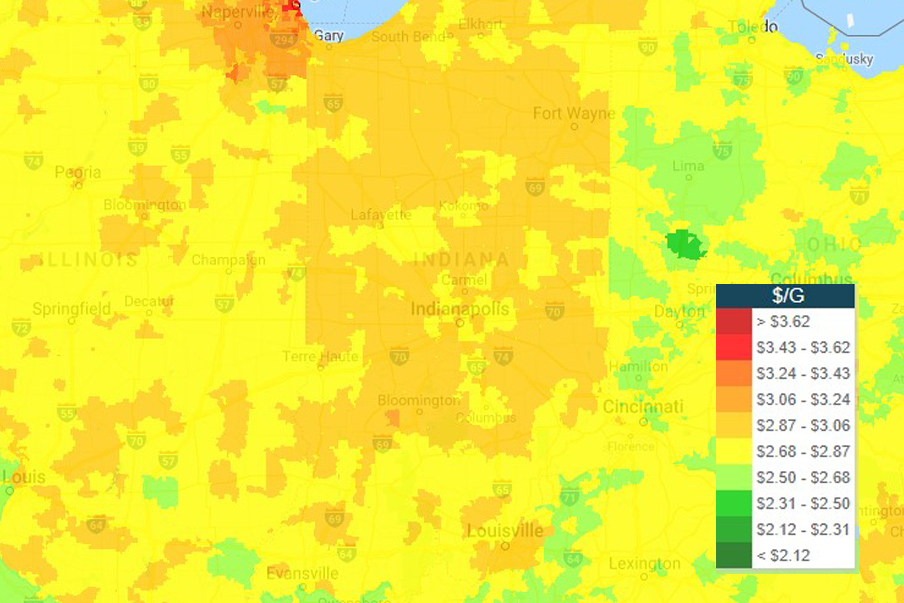 "When I look at the map I don't see Bloomington being any different from the rest of the region," he says.
Tyner says most folks think they are overpaying for gas, but that is rarely the case.
Everybody thinks they are higher than their region than they are everywhere else . . . and it's not true," Tyner says.
But gas prices are often driven by consumers, based on what they're willing to pay. McTeague at Gasbuddy says Bloomington's slightly higher prices are an indicator that people in Bloomington are comfortable with the cost of gas here.
 "Prices are accepted by a good number of consumer who aren't going to drive very far to seek alternatives," McTeague says. "Not that you really could without driving a half an hour or an hour away to find slightly cheaper prices."
McTeague wouldn't describe it as price gouging. He says costs for operators can vary and it's really the operators that make the final call.
"The cost of buying gasoline is about 2.60-2.64 with all considered without the retail margin so what makes the big difference here is how much gas stations need to add to the price to survive," McTeague says.
He says real estate costs play into the math operators must do to set pump prices. That could potentially be the source of higher gas prices in Bloomington compared to neighboring towns such as Bedford.
Houses of similar size in the two communities list for strikingly different prices. Homes in Bloomington routinely go for $50,000 dollars or more than homes in Bedford.
Home prices in the two communities as opposed to costs for retail spaces like gas stations is not a perfect comparison, but it does illustrate much lower real estate costs in Bedford are compared to Bloomington. The gulf between home prices could indicate why gas prices are different in the two communities.
McTeague says the relative consistency of prices across Bloomington indicates a healthy market.
"We may be in a bit of a sweet spot, people are happy with the price, happy with the level of competition And no one is really beating each other up to do out another competitor," he says.
But Bloomington isn't immune to the normal ups and downs in the region. McTeague says price cycling is a common practice for gas stations.
"That's where prices may fall at the end of the week for the weekend only to recover Monday or Tuesday, and it looks like the day for prices to move up is in fact Tuesday for parts of the state and certainly here in Bloomington," McTeague says.
He says those fluctuations are a result of changes made by retailers hoping to lure customers in before weekend travel.
 "It's not because what refineries do, it's that retailers, rather than charging 20 cent a gallon in order to recoup the cost of running that gas station start to compress that by five, six and sometimes even 10 cents a gallon," McTeague says. "Only then on Monday night or Tuesday morning to restore that ten cents. And that gives that up and down sort of impression."
He also said that generally Thursdays are the most expensive days in the state to fill up as retailers drop prices ahead of weekend travel. 
Our community is changing, from closing businesses to traffic and road construction to affordable housing, and we see the impact of these changes all around us.
We want to know: What questions do you have about how the Bloomington of tomorrow will impact your work, your personal life, your community and your future?
Here's how it works: You submit a question you'd like us to explore about how Bloomington has changed over the past few decades, what you want to see for the city in the future and how ties with IU continue to shape the community.  
So: What do you wonder about how Bloomington is changing and how it impacts your life?
Interested in an ongoing conversation how Bloomington is changing? Join our Facebook group!