Prostate cancer is the third most common type of cancer in the United States. But, the test that helps determine a diagnosis can be invasive and imprecise.
Indiana researchers are working on a study that could make a prostate cancer diagnosis as easy as taking a pregnancy test.
Current Prostate Cancer Screening Helpful, But Imprecise
Rex Slye and his wife make a trip to the Richard Roudebush VA Medical Center in Indianapolis about twice a year. They come here a lot less than they used to.
"For two years I came here at least every three months for a procedure and check up," Slye says.
He had bladder cancer, and credits doctors here with saving his life. But, there's another health risk that's still on Slye's mind, especially because of his age: prostate cancer.
"It's very prominent in men," he says.
In fact, Chief of Urology at Roudebush VA Medical Center Dr. Thomas Gardner says one in six men will get prostate cancer.
"If you get to be 90 years old, you have an 80 percent chance of having prostate cancer in your prostate at that time," Gardner says. "So, it's basically the only risk factor for prostate cancer is birthdays. If you have enough birthdays, you're going to get prostate cancer."
The most common screening for prostate cancer is called a Prostate-specific antigen, or PSA test. It detects levels of that protein in a man's blood.
But professional organizations disagree about who should get the test. And the results, while useful, don't give a full picture of what's happening.
"It is a good screening tool in the sense that it does tell us something's going on," Gardner says. "But it doesn't tell us what's going on: inflammation, irritation, growth of the prostate and prostate cancer all make PSA."
Gardner says the hospital often has to do additional testing and biopsies to figure out whether a patient is suffering from prostate cancer or something else. And the PSA test can give false negative or false positive results, leading to unnecessary procedures.
"If we can just find the people that have the important cancers and just treat them, we can minimize all of those side effects," he says.
Gardner is part of a research team working to do just that – develop a more reliable, less invasive way to detect prostate cancer. And, you might be surprised to find out what they've come up with.
Dogs Help Sniff Out Solution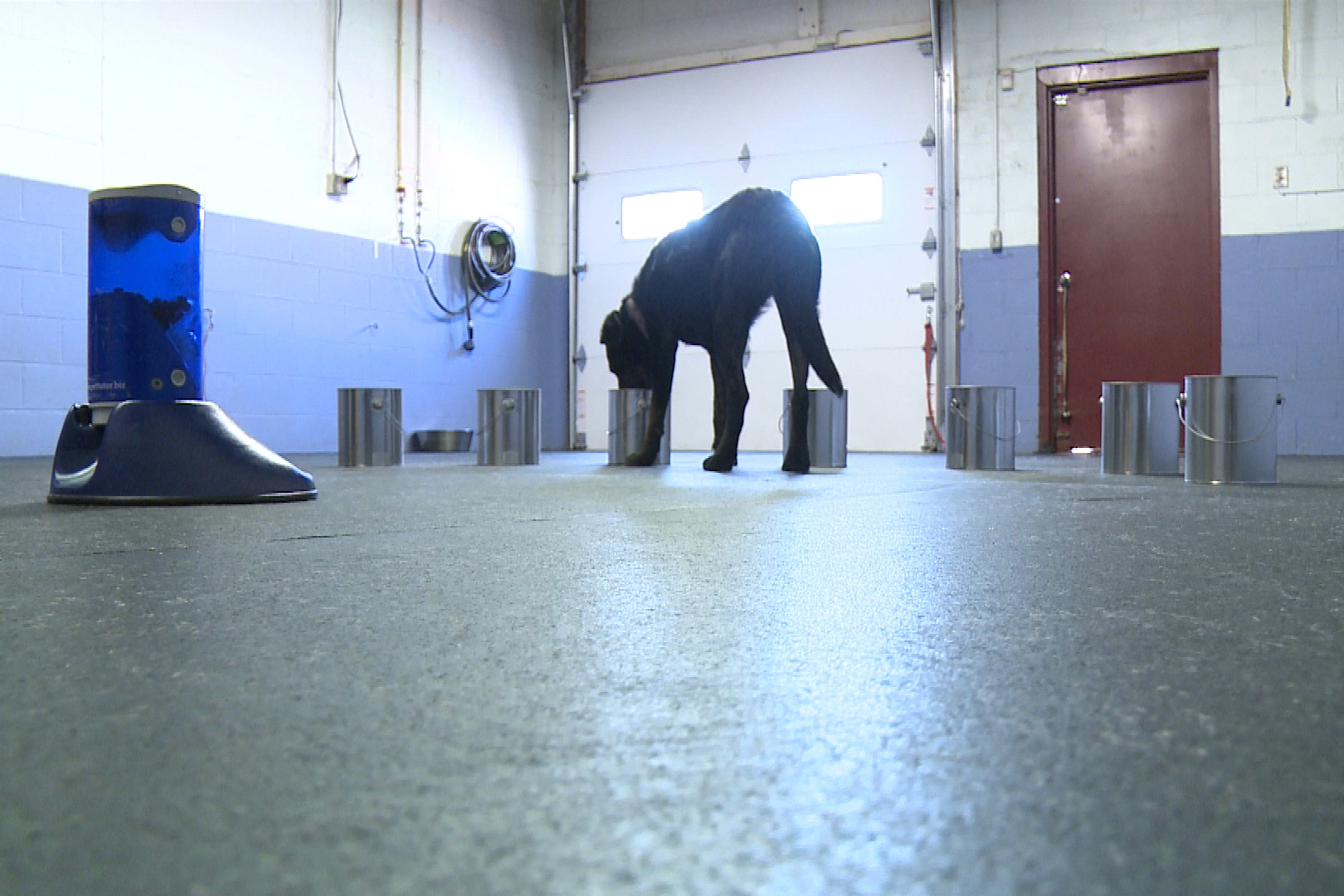 A black dog steps into a large room at Medical Mutts in Indianapolis, and starts sticking its nose into several paint cans. It's searching for a specific scent – one that's undetectable to the human nose.
Jennifer Cattet specializes in training service dogs for medical purposes. She's working with Indiana University and the VA on the prostate cancer project. Her role is to train dogs  to sniff out the unique smell of prostate cancer in patient urine samples.
"The trick as a trainer is to make a particular smell really stand out for the dog," Cattet says. "So, we're going to pair a smell with food, with a really good treat, so the dog gets excited about it. And then we're going to train the dog that whenever he smells that, he's going to produce a particular behavior."
When a dog detects the scent of prostate cancer, it hovers over the can to alert Cattet. She then rewards the animal with a treat, which is dispensed from a machine. For her, the project is especially meaningful.
"I'm very hopeful that this is going to help," she says. "My husband had prostate cancer, so this touches me in a very personal way. And, as much as we can help, we want to be a part of that."
But having dogs sniff through thousands of samples is impossible. That's where Indiana University Purdue University Indianapolis comes in.
Samples come to a lab on campus, where a special machine can analyze the molecules in each sample to determine what compounds it's made of. Essentially, the machine is mimicking what the dogs do – trying to detect the specific compound found when someone has prostate cancer.
"If technology can help by learning from nature, and if you can combine those two, I think there could be a better solution than what we have right now," says Mangilal Agarwal, who's a researcher on the project.
The hope is that by isolating the specific compounds found in prostate cancer, scientists can develop a better test for patients. Rather than sending samples off to a lab, the results could be determined at the doctor's office.
"The plan is to develop a non-invasive test strip like a pregnancy test that men can take to tell if they have prostate cancer or not," Agarwal says.
But getting to that phase of the project will likely take several more years, and additional funding.
Gardner says it will be worth the wait. He's been doing medical research for 25 years and says this study has the greatest ability to move the medical field forward.
"This is why you do medical research," he says. "Because we can help hundreds, to thousands, to hundreds of thousands of men and their families, and everyone else, all their loved ones, by kind of figuring out how to do this better."