What was arguably the most talked-about story of 2019 in Bloomington centered around the presence of alleged white supremacist vendors at the city-run Community Farmers' Market. Starting in early June and continuing even today, the controversy involved protesters, lawsuits, weapons and fresh produce. 
Throughout our coverage of the conflict, social media played a key role in sharing our stories with listeners and readers and getting their reactions to our coverage. 
At an hour-long press conference held by the mayor to defend his temporary suspension of the market, we streamed his remarks on Facebook Live.
This stream garnered more than five thousand views and nearly 50 shares -- but when public comment started, Facebook Live viewers couldn't hear the attendees' questions. So we shared the questions, real-time, in the comments section of the live stream, which prompted more viewer interaction with the post.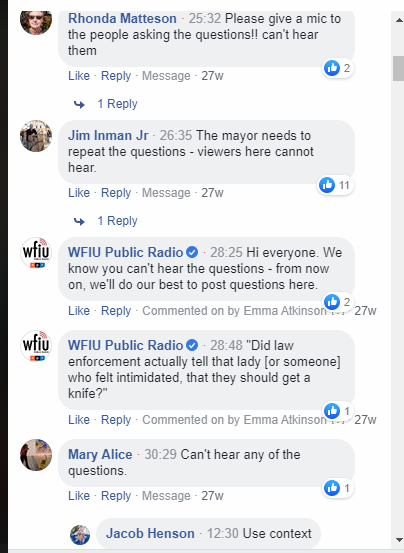 Additionally, we live-tweeted the press conference. This thread was retweeted eight times and liked 34 times.
In early June, activists handed out literature at the Saturday Farmers' Market urging shoppers to boycott Schooner Creek Farms amid allegations of their ties to white supremacist group Identity Evropa. pic.twitter.com/Ui5rseC16t

— Emma Atkinson (@emmameg) July 31, 2019
Hamilton says there have been conversations with all the vendors. He won't say whether or not they've asked Schooner Creek to leave the market.

— Emma Atkinson (@emmameg) July 31, 2019
Question: "Has the city or will it commit to acknowledging that white supremacist's ideology is violence?"

Hamilton says, "Yes."

— Emma Atkinson (@emmameg) July 31, 2019