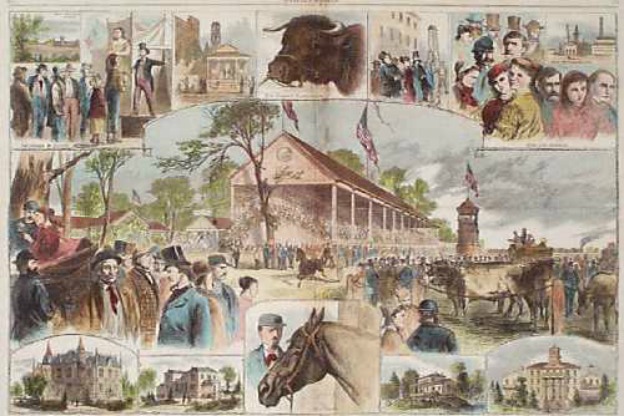 Photo: archive photo
Every August, even in the hottest or rainiest weather, tens of thousands of Hoosiers flock to the Indiana State Fair at the fairgrounds in Indianapolis. Each summer brings some new deep-fried specialty to add to the beloved annual feast of Hoosier Pork Chops and roasted corn. Children and adults still walk down the rows of the livestock barns to see everything from piglets to draft horses, and attend tractor pulls and musical concerts.
The first time that Hoosiers were able to attend their own state fair was from October 19th to the 23rd of 1852. The fair was held in what is now Military Park in the city's downtown. Like others in the country, the Indiana State Fair exhibited livestock, farming machines, and the newest in technology of every kind, including the Singer sewing machine.
Railroads offered half price tickets to the fair, and attendance strained the capacity of the grounds and the still-small capital city. On the first day, fifteen thousand people went through the fair; on the second day, twenty five thousand; and the numbers continued to increase. Attendees spilled over into attractions beyond the fairgrounds: "Yankee Robinson's" vaudeville troupe entertained three times a day in a large tent; one local entrepreneur set up a wooden pavilion near the state house and offered nightly fireworks shows; one local church offered "Beard's Hoosier Panorama of Paradise Lost," combining religious edification with entertainment; and P.T. Barnum sent one of his famous menageries.
The fair was such a success that other cities clamored to share the event. In 1853, the state fair moved to Lafayette and then in 1854 moved south to Madison. The two towns did not enjoy the economic success that had come to Indianapolis, and the fair moved back to stay. In the 1890s, the fair moved to its current site on the north side of East 38th Street.
Source: George Cotttman, "First State Fair in Indiana," Indiana Magazine of History, September 1907
A Moment of Indiana History is a production of WFIU Public Radio in partnership with the Indiana Public Broadcasting Stations. Research support comes from Indiana Magazine of History published by the Indiana University Department of History.