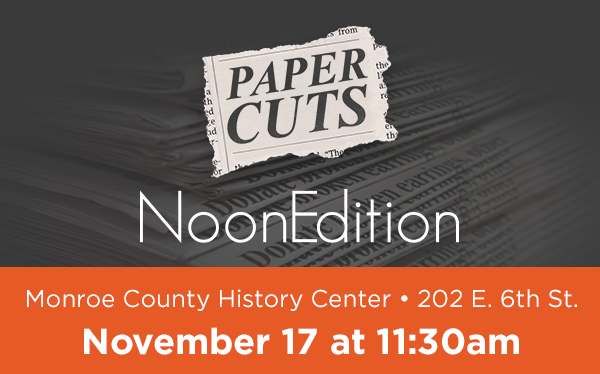 Local newspapers in south-central Indiana have seen steep circulation and staffing declines since being purchased by companies with strong private equity ties. What have the ownership changes meant for the communities being served by these Hoosier newspapers? Join the Noon Edition team for a live radio broadcast about findings from their Paper Cuts reporting project on the influence private equity has had on local news.
This event is free and open to the public. Guests should arrive by 11:30am for the live hour-long radio broadcast beginning at noon. We will take questions from the audience in attendance at the Monroe County History Center, as well as through X @NoonEdition and email at news@indianapublicmedia.org.
Additionally, the museum has offered FREE admission for our attendees to tour the History Center, including their related exhibit, The Past and Uncertain Future of Local Print Journalism. Follow the 199-year history of our local newspaper industry from the beginning and learn about the papers, the people, and the technology that made it possible in this exhibit spanning three galleries. 
Event Information
Noon Edition Live
---
Monroe County History Center, 202 E 6th Street Bloomington, IN
Friday, November 17, 2023 at 11:30 am
Price: FREE