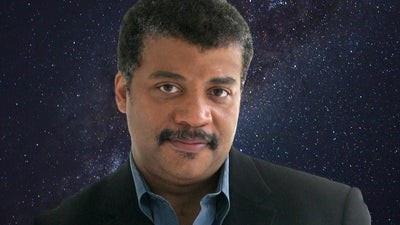 Join Dr. Neil deGrasse Tyson for an evening of "An Astrophysicist Goes to the Movies." From "Star Wars" to "Frozen" to "The Martian," enjoy this entertaining and enlightening review of all the science that our favorite movies got wrong, combined with some of the stuff they got right. He incorporates the latest films as well as some classics that you may not have known had any science in them at all.
Your membership contribution of $240, or $20 per month as an ongoing Sustainer, includes two tickets to the Tuesday, March 17, 2020 show at Clowes Memorial Hall in Indianapolis.
Or, contribute $500, or $41.67 per month as an ongoing Sustainer, and receive two VIP tickets and attend a post show meet and greet with Dr. Tyson.
Your contribution also includes a one-year subscription to WFIU's monthly program guide and one WFIU MemberCard.
Event Information
An Astrophysicist Goes to the Movies
---
Clowes Memorial Hall
Tuesday, March 17, 2020 at 7:30pm
Price: $240 for two tickets | $500 for two VIP tickets plus Meet & Greet
Contributions are tax-deductible to the extent they exceed the fair market value of any gift received. Seats will be assigned in order of the date and time of pledge. Tickets are nonrefundable and nonexchangeable. All ticket packages include the popular, money-saving MemberCard and a one year subscription to the monthly program guide. For more information, contact the Membership Office at 812-855-6114 or 1-800-662-3311