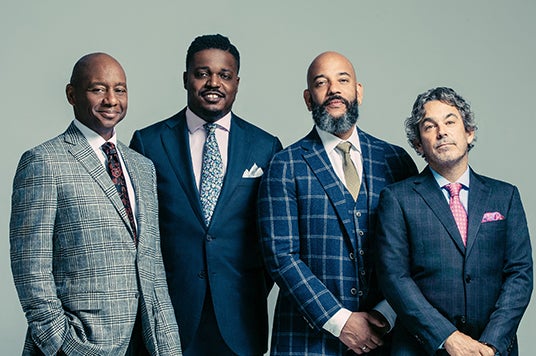 Three-time Grammy Award-winning saxophonist Branford Marsalis and the Branford Marsalis Quartet return to IU Auditorium for an evening of unparalleled artistry which has made them the gold standard among jazz ensembles.
Marsalis is known for his excellence in both classical and jazz genres, and his arrangements and interpretations bear influence from a broad musical background. From his initial recognition as a young jazz lion, he has expanded his vision as an instrumentalist, composer, bandleader, and educator, crossing stylistic boundaries while maintaining an unwavering creative integrity.
The Branford Marsalis Quartet, formed in 1986, remains his primary means of expression and will join him for the Bloomington performance. The quartet's most recent album, The Secret Between the Shadow and the Soul, was met with critical acclaim, earning a Grammy nomination and is considered the group's most emotionally wide-ranging and melody driven release to date.
For a membership contribution of $180, or an ongoing monthly contribution of $15 as a WTIU sustainer, you will receive two tickets for Branford Marsalis at IU Auditorium on Thursday, January 25, 2024, at 7:30 PM.
Event Information
An Evening with Branford Marsalis
---
IU Auditorium
Thursday, January 25, 2024, at 7:30 PM
Price: $180