This week on our show we listen back to a favorite episode featuring the story of a young farming family with a flock of sheep, on a quest for farmland of their own. We'll learn about their dreams for Three Flock Farm and the opportunities and obstacles along the way.
And Harvest public media has a story about vaccine reluctance in meatpacking towns.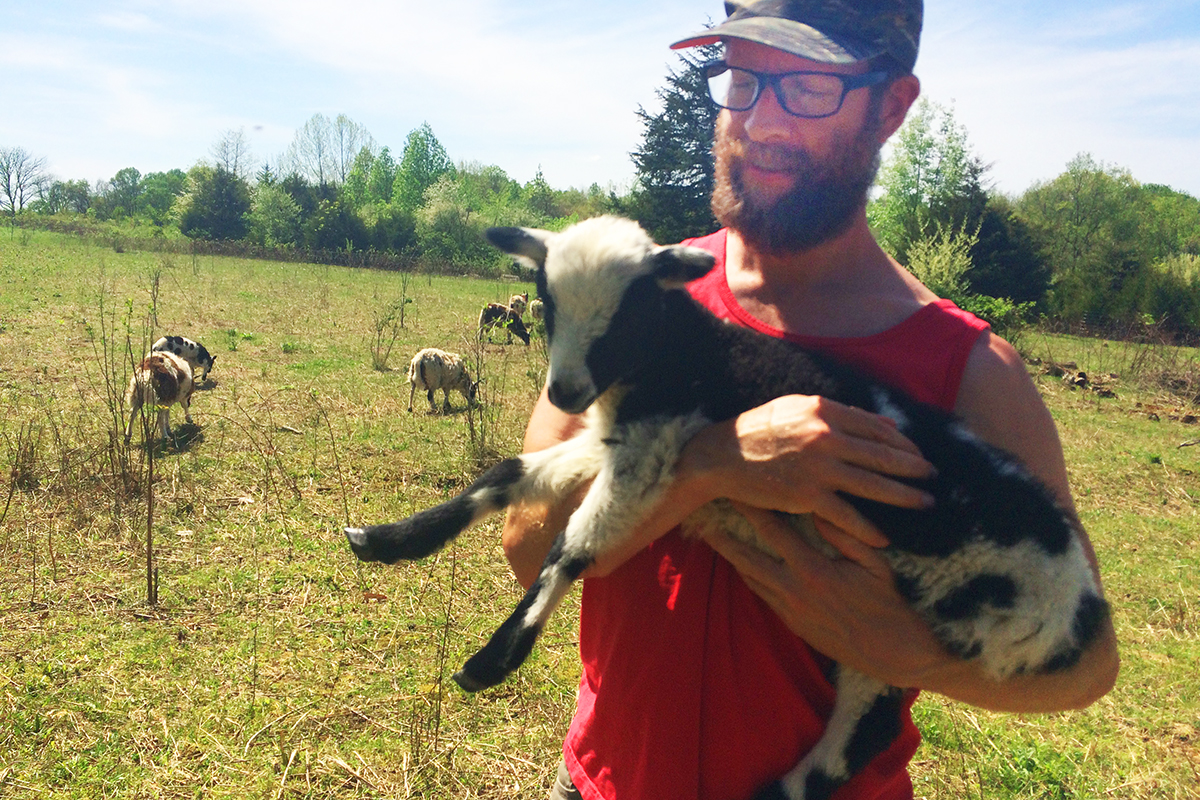 Earth Eats is a show about Food and Farming. When we talk about farming, there's so much to explore, behind the scenes.
In our series, Have Sheep, Will Farm, we're taking a look at what it takes to start a farm from scratch.
Farms are often handed down through families. But not always. And this is a story about one couple, without an inheritance, and their path to farming their own land, in Southern Indiana.
In the first episode of Have Sheep, Will Farm, we met Lauren McCalister and Brett Volpp.
They're beginning farmers, with two kids-Ramona and Jasper. They started their farming practice before they had land of their own. It started with a wedding gift. They asked for plants and farm animals, half joking, and one friend took them up on it, and gave them three Jacob sheep. 
Jacob Sheep are a smaller breed with at least two sets of horns, and unusual colors of wool. Lauren and Brett are raising them for wool and for meat.
They were living and farming on rented land outside of Unionville, Indiana, and had grown the flock to over twenty sheep. When the landowner sold the property, it threw them into a crisis.
Their friend Bobbi Boos, an experienced farmer, suggested they were ready to start seeing themselves as beginning farmers, and recommended they seek out an FSA loan, to purchase some land of their own.
In part two of our series, I spoke with Lauren and Brett's Loan officer, Kathleen Walters.
Kathleen works with the Farm Services Agency that serves Monroe County.
She walked us through the ins-and-outs of FSA loans, and it looked like Lauren and Brett were well-positioned for this type of loan. They already had a few years of farming experience under their belts, enough to know what they were getting into.
The FSA loan requires a farm business plan. Their business is called Three Flock Farm, and their plan includes 6 elements for their farm: Sheep, geese and chickens (those are the three flocks) plus ginger, mushrooms and herbs. The sheep will provide meat and wool, the geese and the chickens will be for eggs, the herbs will be medicinal.
The mushrooms, in a sense, are medicinal too. Lauren and Brett are particularly interested in cultivating Lion's Mane mushrooms. This type of mushroom is currently being explored for its potential in improving neuronal health. Early studies look promising for those experiencing signs of dementia, and the mushroom's wellness potential is what excites Brett and Lauren.
Business planning isn't entirely new territory for them. Lauren has an undergraduate degree in Business and found this plan easy to formulate because it incorporated her business training with her own personal passions and dreams.
But finding land and securing a loan takes time. Where would they live, and where would they keep the animals in the meantime. They found a house to rent in town for their family and the two dogs, but what about the sheep. And the horse?
Hear all about it, on Earth Eats this week.
Music on this Episode from Daniel Birch, from the Free Music Archive
Additional music from the artists at Universal Production Music.
The Earth Eats' theme music is composed by Erin Tobey and performed by Erin and Matt Tobey.
Stories On This Episode
Latinos are far less likely to have gotten the COVID vaccine. A reluctance to get the shot grounded in language, culture and other factors piles onto the health care inequities that many Latinos already face.