Posts tagged holiday
December 17, 2007
The Night Before Christmas: Holiday Jazz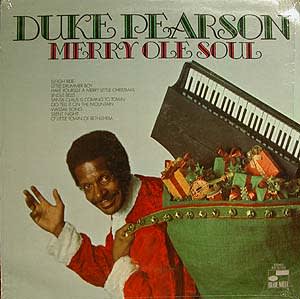 Our annual invocation of holiday jazz this year calls upon the talents of Fats Navarro ("A Bebop Carol"), hipster vocalist Babs Gonzales, tenor saxophonist Gene Ammons, trumpeter Donald Byrd, guitarist Joe Pass, and many other propagators of classic jazz, blowing joyous tidings unto you all. Happy holidays from all of us at Night Lights and WFIU–may you find many great books, movies, CDs, and other "items of interest" under your holiday tree.
December 24, 2005
The Night Before Christmas
Christmas-Eve jazz from Fats Navarro, Dexter Gordon, Louis Armstrong, Duke Pearson, Frank Sinatra, and more.
December 18, 2004
Holiday Happening
The first-ever Night Lights Christmas program features music from Booker Ervin ("White Christmas" from his 1966 album Solid Structure), Ahmad Jamal ("Snowfall," written by Terre Haute, Indiana native Claude Thornhill), Sonny Rollins ("Winter Wonderland"), Babs Gonzalez ("Bebop Santa Claus"), Bill Evans (a rare and amusing vocal take…
October 30, 2004
Strange Enchantment: Jazz for Halloween
"Strange Enchantment" is a program of Halloween-related jazz, including music from Duke Ellington, Bill Evans, Kay Starr, Rahsaan Roland Kirk and more.