Police: A Dramatic Decline In 2016 Indiana Meth Labs
By Leigh DeNoon - Jan 20, 2017
The Indiana State Police attribute the decline, in part, to imported synthetic meth.
More in Health
January 18, 2017
feature
Psychiatrist Writes Guide For Caregivers On Senior Mental Health
By 2030, there will be only one geriatric psychiatrist for every 27,000 seniors.
January 17, 2017
feature
Ind. Vaping Laws Have Consumers Looking For Other Options
Some customers are going to Illinois for e-liquids.
January 17, 2017
feature
Indiana Cancer Agency Hacked For Data Won't Pay Ransom
Hackers demanded about $43,000 for access to the data.
January 16, 2017
feature
American Legion Of Indiana Wants Medical Marijuana Legalized
The organization passed a resolution Sunday asking Indiana legislators to develop a medical marijuana program.
January 16, 2017
feature
Protestors At Statehouse: Keep Your Hands Off The A.C.A.
The overarching theme at Sunday's "Rally to Save Healthcare" was "health is a human right."
January 14, 2017
feature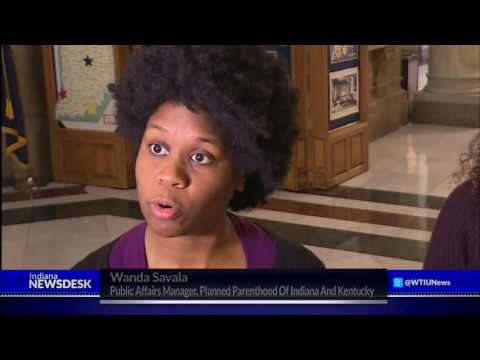 Watch: Womens' Groups Organize To Protest Proposed Abortion Bills
Organizations like Indy Feminists and the new Indiana Reproductive Justice Coalition plan to protest proposed bills that restrict abortion.
January 13, 2017
feature
Congress Once Again Proposing Repeal Of Medical Device Tax
Several of Indiana's U.S. Representatives are co-sponsoring the legislation.
January 13, 2017
feature
Health Department Reports More Flu Deaths, Urges Vaccination
Health officials say getting a flu shot is the most effective way to protect against the influenza virus.
January 13, 2017
feature
What Happens To Hoosiers Covered By HIP 2.0 If Obamacare Repealed?
Under former Governor Mike Pence, Indiana expanded Medicaid, with the Healthy Indiana Plan, or HIP 2.0.
January 12, 2017
feature
Carson Addresses East Chicago Lead Contamination At HUD Hearing
Carson was answering a question from U.S. Sen. Joe Donnelly (D-IN) at the confirmation hearing to lead the federal Department of Housing and Urban Development.